Process Technology
About the Program
The mission of the Process Technology program is to provide high quality education and training, which will assist a diverse student body to prepare for career development.
AWARD TYPES: Certificate Level 2, Associate of Applied Science
AREA OF STUDY: Science, Technology, Engineering & Math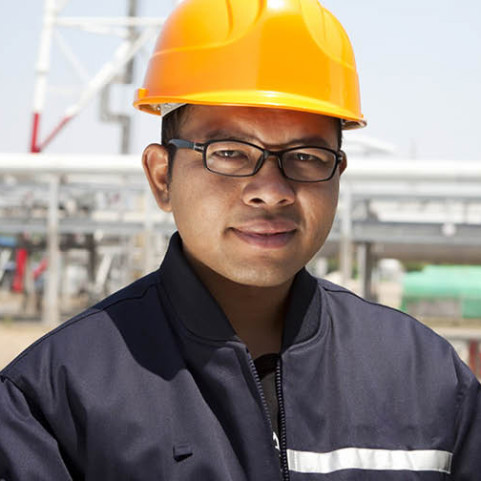 This program is part of the
Center of Excellence
Situated in the "Energy Capital of the World," the Global Energy Center of Excellence trains and educates technically-skilled and safety conscious workers for the energy industry supporting the petrochemical, energy corridor and production companies in our region.
Program Outcomes
Students will be able to:

Describe operation of process control equipment such as an analyzer, control loop, transducer, transmitter, detector, flow indicator, pressure alarm, Pressure control valve, and recorders. Operate process systems and equipment.

Describe safety, health, and environmental standards in the plant. Troubleshoot process abnormalities and equipment malfunctions.

Explain operation of plant systems and equipment. Analyze plant reaction systems.

Demonstrate maintenance procedures in process systems and equipment.
Program Information
General Requirements
The Process Technology program educates and trains technicians who control and monitor various industrial and plant processes. Areas of employment include: petrochemicals and refining, food and beverage processing, pharmaceuticals and biomanufacturing, paper and pulp, oil and gas exploration, energy and power generation, water and waste water treatment, chemical and agricultural manufacturing, environmental safety, and brewing and distilling process industries.
Process technicians ensure safety, health and other environmental practices and standards in all areas of plant activities. They also provide routine and preventive maintenance and service to process equipment, systems, and other plant units. They may also monitor and operate manufacturing instrumentation. Process technicians generally interface with other technical personnel such as chemical laboratory technicians in inspecting, troubleshooting, repairing and testing process related equipment.
TSI testing required prior to first enrollment for all AAS degrees and Level II certificates.
INFORMATION (Session)
Global Energy COE information sessions will take place every second Thursday of each month from 11:00 a.m. - 12 p.m. at HCC Northeast Campus - Science & Technology Building (Room 106) at 555 Community College Drive, Houston, TX 77013.
In the information session, students will be advised for enrollment in Global Energy COE programs and provided information regarding degrees and certificates, career and salary projections, industries hiring HCC students, financial assistance, scholarships, internships as well as food or childcare needs.
For more information, call 713-718-5534 or email the Chair of Global Energy at hosein.tahvilian@hccs.edu
Employment
The estimated annual job openings is 148 jobs a year.
Median Wages - $32.64 hourly, $68,000 annually
Resources
Search for a Process Technology Professor or request more information
Get in touch
Process Technology

Hours of Operation: Mon.-Fri. 8am-5pm