Minority Male Initiative
Join us for a virtual event focusing on Cultural Enrichment and Academic Success
This event will focus on cultural enrichment and academic success for male students of color in the greater Houston community who desire to continue their education at Houston Community College and the University of Houston-Downtown. The event is scheduled to take place on November 13, 2020 at 11 a.m. to 1:30 p.m.
This event, now going into its 5th year, will feature guest speakers and conversations centered around topics dealing with social justice, educational development, community engagement, along with college and career success, and student success pathways.
High School and Community College students seeking to enroll or transfer to the University of Houston-Downtown will have an opportunity to participate in a virtual college fair to learn more about degree programs in preparation for 2021 enrollment.
Current HCC Students will engage in dialogue centered around career readiness and cultural enrichment.
Professionals will have the opportunity to engage in direct conversations centered on developing programs that supports male students of color in the P - 20 pipeline in Houston.
Register to attend the virtual event
About the Program
The mission of the Minority Male Initiative Program is to increase the completion rate of minority males enrolled in primary, secondary and post-secondary education by providing a sound educational foundation supported by life skills training and development.
Programs
The Minority Male Initiative supports:
Men of Honor Student Organization
Partners
City of Houston - My Brother's Keeper Initiative
Middle College High School
Fifth Ward Enrichment Program, Inc.
The University of Houston Downtown - Houston Hispanic Leadership Initiative
Sign up to join the HCC Men of Honor
MMI Media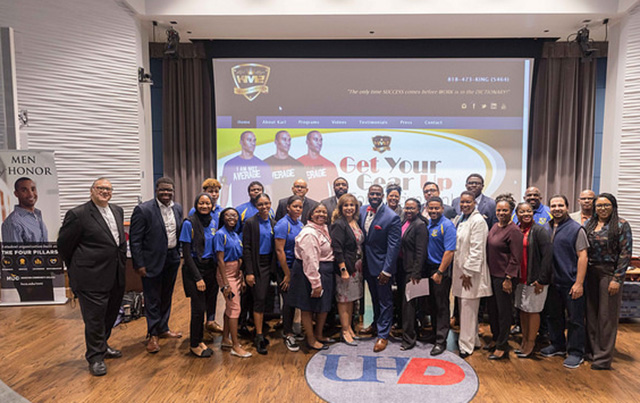 Minority Male Initiative
Kendrick Gibson