Cynthia Lenton-Gary, Ph.D.
Cynthia Lenton-Gary, Ph.D.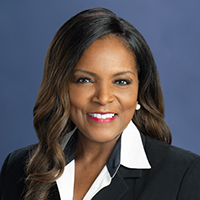 Dr. Cynthia Lenton-Gary is the Houston Community College Board Trustee for District VII. She was the first African American female to serve in city government for the city of Missouri City and the first African American woman appointed to the Fort Bend Independent School District (FBISD) Board of Trustees.
Upon completion of her bachelor's degree, Dr. Lenton-Gary began working as an Environmental Chemist and was employed as a Research Chemist and Forensic Scientist (Criminalist). Dr. Lenton-Gary left corporate America to pursue a career in education and became very active in her community. She later received her master's degree in Sociology from Prairie View A&M University of Texas and doctorate in Christian Counseling from Newburgh Theological Seminary.
As a member of the city council, Dr. Lenton-Gary created a Youth Council in her district, which provided high school students with summer jobs. Her passion and willingness to serve others afforded Dr. Lenton-Gary to be recognized by "Who's Who Among Professional Women". She has been active in many organizations and is a member of Alpha Kappa Alpha Sorority Incorporated. She was honored by her sorority as "A Woman of Change-Making a Difference in the Community". She worships at the Fountain of Praise Church where she is an ordained Deaconess.
Dr. Lenton-Gary is a recipient of the YMCA Minority Achievers Award; NAACP President's Award for Community and Civic Engagement, National Forum for Black Public Administrators' award for Outstanding Success and Invaluable Contributions; and Holman Street Baptist Church named her "Woman of Legacy Impacting Others".
Dr. Lenton-Gary served on the Board of Directors of the Houston-Galveston Area Council and was a member of the Greater Houston Partnership. She served as an Ambassador for the American Heart Association and the American Stroke Association. As ambassador and stroke survivor, Dr. Lenton-Gary was a special guest on the talk show "Great Day Houston" to discuss heart health.
Fall 2023 Newsletter from Trustee Dr. Cynthia Lenton-Gary, District VII
Fall 2022 Newsletter from Trustee Dr. Cynthia Lenton-Gary, District VII
Spring 2022 Newsletter from Trustee Dr. Cynthia Lenton-Gary, District VII