Top of Home Page
Welcome to Northwest College
Welcome to the excitement of HCC's Northwest College and the cutting-edge work being done by an exceptional faculty and staff. We are all about teaching and learning and your success as a student.
Northwest is one of six colleges that make up the Houston Community College District. Our college serves the Alief, Katy, and Spring Branch communities as well as some areas within the Houston Independent School District.
Don't miss the HCC Northwest College and Community Fall Resource Fairs!
Welcome from the College President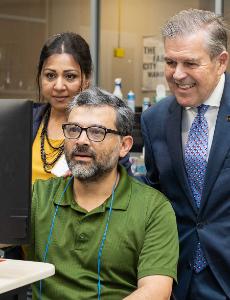 Welcome to Houston Community College. We are excited that you've chosen HCC as part of your educational journey.
We offer high-quality, affordable education for academic advancement, workforce training, and career development. Whether online or face-to-face, our innovative programs are designed to make our students an essential part of the 21st century workforce, and our staff and faculty are committed to ensuring your development and growth to help you meet your educational goals.

We are honored to have a role in cultivating students who are committed to challenging themselves, engaged in their communities, and striving to succeed.

We invite you to take the next step to what we hope will be a road of lifelong learning, achieving your dreams, and making the world a better place. We will be here to help you in every way we can. We'll see you in class.

Dr. Zachary Hodges
President, Houston Community College Northwest
In the fall of 1976, Houston Community College Northwest started its first day of classes at the Cy-Fair Campus with approximately 250 students. This was in partnership with Cy-Fair ISD, which provided HCC with an underutilized facility near Tanner Road and Gessner. The staff was small but committed. When the building needed painting, the custodian, faculty and staff got together to complete the task. Nothing was too large or small a task for those early visionaries who were dedicated to establishing a presence in the northwest Houston area.
That staff included the future Northwest President Dr. Zachary Hodges, who then was serving as the first campus-based counselor at HCC. In 1978, Dr. Hodges created a program for after school classes at Katy High School that later became HCC's first dual credit program. In 1985 HCC opened a campus at Westchester, a previously closed Spring Branch ISD school, and Dr. Hodges served as a campus director. In 1989, then Chancellor Dr. Charles Green divided HCC into six colleges and the Northwest college was born. Northwest College has the unique privilege of having campuses in three Houston-area school districts.
The Northwest college has grown due to the commitment and dedication of the faculty and staff and our amazing, hard-working students. Now with four westside campuses at Alief Hayes, Alief Bissonnet, Spring Branch, and our new Katy campus, this commitment continues with courses offered in more than 60 HCC programs with over 9,000 students. We look forward to serving you and helping you continue your educational journey.
Instructional Locations
Find a campus in your neighborhood.
Connect with Northwest College

Northwest College
Contact Us
Alief Bissonnet Campus: 713.718.8860
Alief Hayes Campus: 713.718.2339
Katy Campus: 713.718.5757
Spring Branch Campus: 713.718.5700