Pastry Arts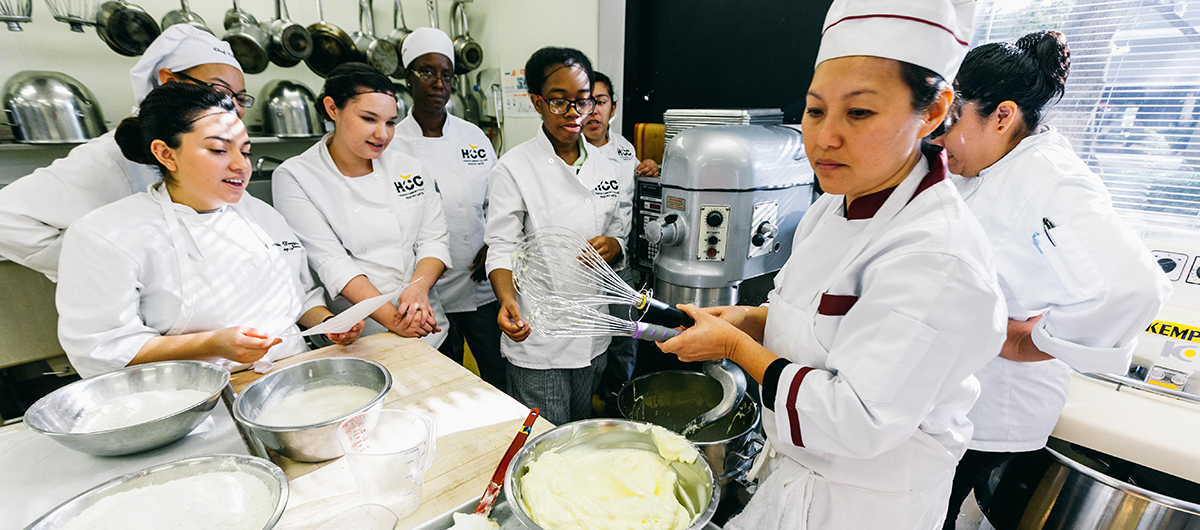 About the Program
The Pastry Arts program successfully equips graduates to fulfill their career aspirations through its commitment to teach a standard of skill and professionalism necessary for advancement in the dynamic and diverse baking and pastry field within the communities we serve.
AWARD TYPES: Associate of Applied Science, Certificate Level 1, Certificate Level 2
AREA OF STUDY: Public Safety, Transportation & Consumer Services
Program Outcomes
STUDENTS WILL BE ABLE TO:

Demonstrate the use of the metric system and baker's percentage

Select the correct techniques and procedures for preparing various types of baked goods as they apply to formula

Design and construct traditional, modern, and special dietary needs pastry products that cater to our community

Analyze food and production costs and identify necessary controls to efficiently manage and ensure profitability in a bakery operation
Program Information
General Requirements
Specialized classroom and practical laboratory work experiences in the preparation and cooking of a variety of foods are included in the Culinary Arts program. Emphasis is placed on the use and care of commercial equipment used in food preparation, sanitation in food handling, cooking and baking methods, preparation of special dishes, food standards, aspects of nutrition, and gourmet cooking.
Since this program is designed to prepare graduates for a career in Culinary Arts, tools and materials are expected to be purchased by students in order to perform routine class and laboratory assignments.
Upon completion of CHEF 1305, Safety and Sanitation, students are eligible to take the National Restaurant Association Education Foundation ServSafe Certification exam. After receiving a passing grade on the exam, students are awarded the ServSafe Health Certificate that is valid for five years.
In addition, please note that a student may only earn one Occupational Skills Award (OSA) per academic year.
TSI testing required prior to first enrollment for all AAS degrees and Level II certificates.
Accreditation
The Associate of Applied Science in Culinary Arts degree and the Associate of Applied Science Pastry Arts degree are accredited by the American Culinary Federation Education Foundation Accrediting Commission (ACFEFAC).
---
Program Outcomes and Success Measurement Data
AAS Pastry Arts— Graduation Rate At 150% Of Normal Time (3 years)
Academic Year

2017 - 2018 (Fall 161)

Academic Year

2018 - 2019 (Fall 171)

Academic Year

2019 - 2020

67%

40%

25%
Job Placement Rates for Culinary Arts & Pastry Arts AAS
Academic Year

2015-2016

Academic Year

2016-2017

Academic Year

2017-2018

75%

79%

87%
Source: Texas Higher Education Coordinating Board (THECB)
ACFEF Certification Rates
Academic Year
2019-2020
0%
*ACF Certification Rate is the percentage of students who receive ACF Certification within
1 year of program completion.
Program Goals
The Pastry Arts, AAS program is designed to equip graduates for leadership positions in the food industry. The program provides students with the necessary theoretical knowledge and technical skills to become successful pastry professionals. Students develop competencies in breads, rolls, cake production and decoration, chocolates and confections, contemporary plated desserts and production pastry techniques. Concepts of baking theory and nutrition, food safety and sanitation, bakery service operations, supervision skills, and general education courses focus on professional and management skills development necessary for success in the workplace.
Resources
Search for a Baking & Pastry Arts Professor or request more information
Get in touch
Katherine Rangel
Pastry Arts
Hours of Operation: Mon. - Fri. 9am-5pm