Welding Technology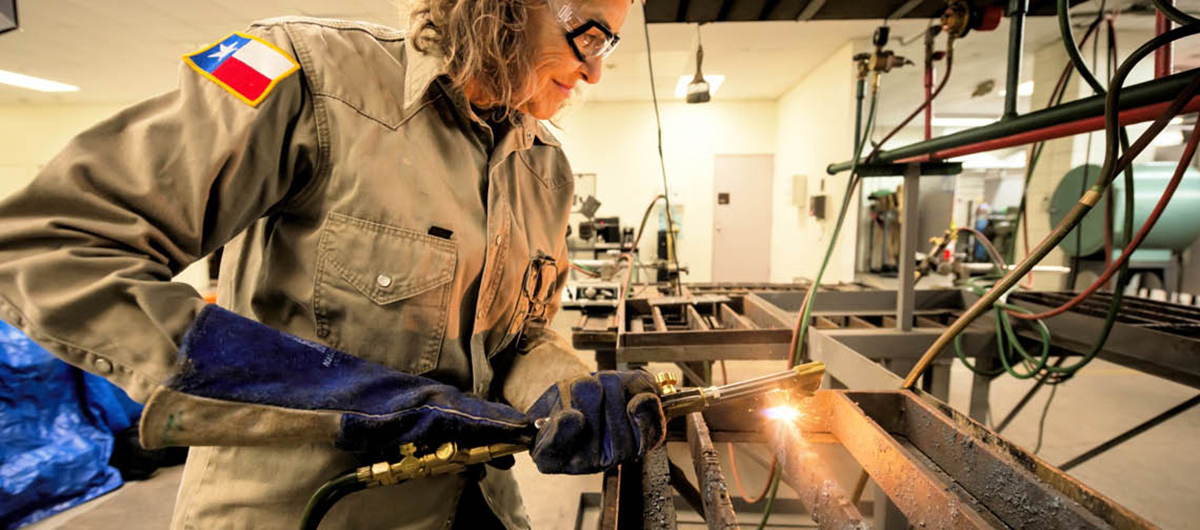 About the Program
The Welding Technology program is designed to offer students the necessary skills for entry level positions in the welding industry.
AWARD TYPES: Certificate Level 1
AREA OF STUDY: Construction Industry & Manufacturing
Program Outcomes
STUDENTS WILL BE ABLE TO:

Demonstrate knowledge of Safety Rules and Regulations as they apply to a welding environment.

Interpret and Decode Information Found in Blueprints, Specifications, and Applicable Documents Related to Welding Projects.

Exhibit Knowledge in the proper selection, Use, and Application of Welding Apparatus and Equipment.

Fabricate parts and components using information provided in blueprints and specifications.
Program Information
General Requirements
The Welding Technology program is designed to offer students the necessary skills for entry level positions in the welding industry. There is an increasing demand for skilled welders in the fields of MIG (Metal Inert Gas), TIG (Tungsten Inert Gas), and Pipe welding.
Houston Community College offers two certificates in welding, the Basic Welding Helper certificate which can be completed in one semester and prepares students for entry level work, and the Advanced Welding certificate which enhances the skills learned in the helper certificate by providing more advanced training in advanced MIG, TIG, and Pipe welding techniques.
Students successfully completing any of the certificates listed may apply a maximum of 21 semester hours towards an AAS degree in Construction Technology – Craft Management Specialization. For certificates with fewer than 21 semester hours, additional courses in Construction Technology, Business Administration, or other related disciplines may be required.
TSI testing required prior to first enrollment for all AAS degrees and Level II certificates.
Employment
There are 17,094 Welders, Cutters, and Welder Fitters employed in the Greater Houston Area. This number is expected to increase by 9.5% over the next four years.
The estimated annual job openings is 979 jobs a year.
Median Wages - $18.64 hourly, $39,000 annually
Marketable Skills
Learn more about the marketable skills—skills valued by employers that can be applied in variety of work settings—so you can communicate these to potential employers. Click on the relevant award title below to see descriptions of marketable skills for that area.
Continuing Education
Welding Technician I (English and Spanish)
This course emphasizes hands-on training and the mastery of welding techniques. Students develop their technical knowledge of metal fabrication, metallurgy and manipulative welding skills. Students learn field terminology in English to facilitate professional and technical growth.
Acting Director Alberto Urbina
6960 Rustic, Houston, TX 77087
713.718.6839
Learn more
Resources
Search for a Welding Technology Professor or request more information
Get in touch
Alberto Urbina, Dean
Material Science & Smart Manufacturing
6815 Rustic St, Houston, Tx 77087
Hours of Operation: Mon.-Fri. 8am-5pm