Fashion Design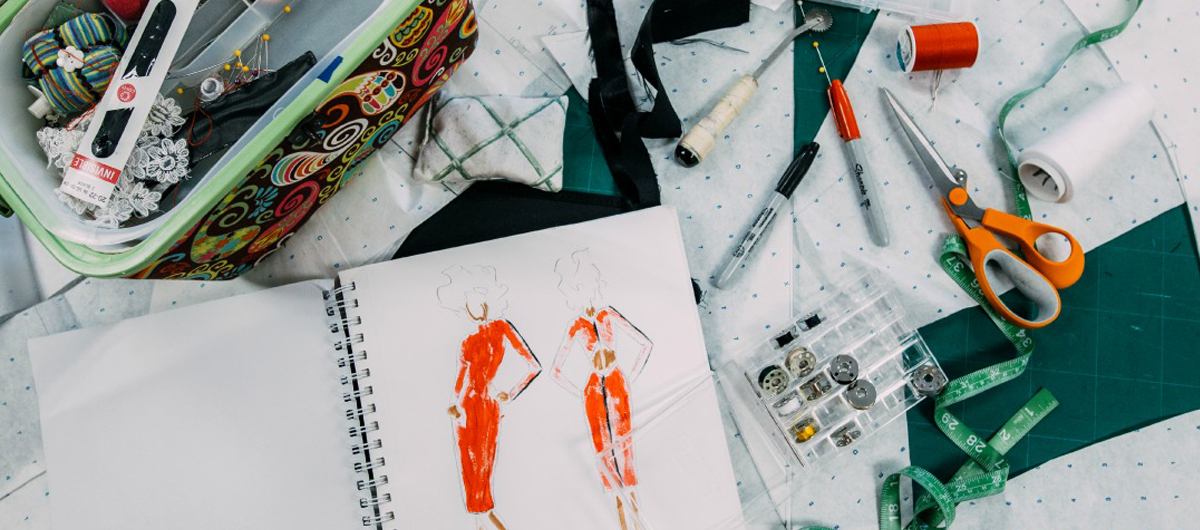 About the Program
From the Avant-Garde to Haute Couture, if you believe every style has a story, a degree in fashion design may be the runway to express your creativity and individuality! Launching a career in the fashion industry takes equal parts dedication, real-word experience, and guiding hand of talented industry professionals.
AWARD TYPES: Associate of Applied Science, Certificate Level 1, Certificate Level 2
AREA OF STUDY: Art & Design
Program Outcomes
STUDENTS WILL BE ABLE TO:

Experiment with lines, colors, fabrics, patterns, textures, and styles in design and creation of original fashion design. Ability to produce projects to simulate a real life industry situations.

Apply critical thinking and creative problem solving skills to a variety of fashion design problems.

Communicate design concepts at various stages of development using the design process, sewing skills, drawing skills and/or appropriate software.

Demonstrate punctuality and recognize the necessity of working long hours to meet deadlines by prioritizing tasks and effective use of time.
Program Information
General Requirements
The Fashion Design program prepares students for careers in fashion related fields. Creative studies in design fundamentals, fashion analysis, fashion history, textiles, color, and sketching, along with technical training in draping, pattern making, pattern grading, and clothing construction provide the training required for entry-level employment by the mass production ready-to-wear industry or for custom design business operations.
The Texas Higher Education Coordinating Board (THECB) allows students to earn only one AAS in Fashion Design. Students may choose from one of the following two specializations: General or Theatrical Costume Design.
In addition, please note that a student may only earn one Occupational Skills Award (OSA) per academic year.
TSI testing required prior to first enrollment for all AAS degrees and Level II certificates.
Accreditation
HCC is an accredited institutional member of the National Association of Schools of Art and Design (NASAD). Seven Art and Design Programs—Studio Art, Interior Design, Digital Communication, Fashion Design, Fashion Merchandising, Filmmaking, and Digital Gaming & Simulation for Artists—collectively represent the Art and Design Unit at HCC.
National Association of Schools of Art and Design (NASAD)
11250 Roger Bacon Drive, Suite 21
Reston, VA 20190-5248
Phone: 703-437-0700
Website: nasad.arts-accredit.org
Employment
There are 181 Fashion Designers employed in the greater Houston Area. This number is expected to increase by 3.3% over the next four years.
The estimated annual job openings is 8 jobs a year.
Median Wages - $28.61 hourly, $60,000 annually
Marketable Skills
Learn more about the marketable skills—skills valued by employers that can be applied in variety of work settings—so you can communicate these to potential employers. Click on the relevant award title below to see descriptions of marketable skills for that area.
Men's Tailoring & Alterations, C1
Resources
Search for a Fashion Design Professor or request more information
Get in touch
Professor Alexander Chapman
Fashion Design
Hours of Operation: Mon.-Fri. 8am-5pm