Audio Recording Technology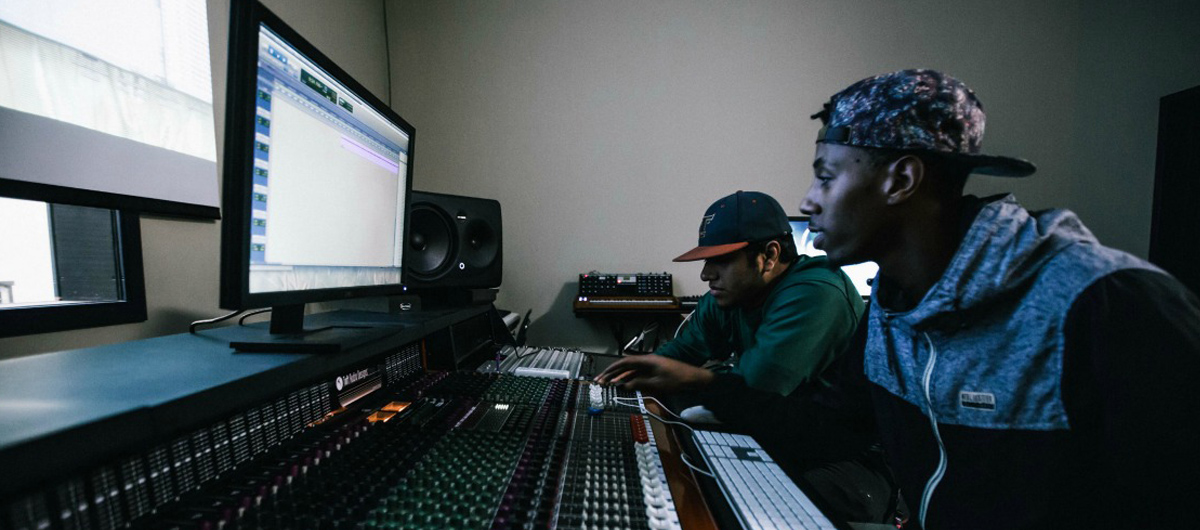 About the Program
"Hands-on" is the guiding philosophy behind this innovative program in audio recording, electronic music, and live sound production. Students acquire hundreds of engineering hours using state-of-the-art digital and analog equipment in our six well-equipped studios.
AWARD TYPES: Associate of Applied Science, Certificate Level 1, Enhanced Skills Certificate
AREA OF STUDY: Art & Design
Program Outcomes
STUDENTS WILL BE ABLE TO:

Demonstrate the use of the major skills and techniques used in the creation of audio media content including recording, editing, time manipulation, pitch correction, and mixing strategies appropriate to both genre and medium. Create MIDI sequences and incorporate MIDI technology such as sampling, synthesis, and beat manipulation into commercial recording projects

Demonstrate a fundamental understanding of electronics, acoustics, and audio system design. Compare audio systems utilizing the major operating systems and DAW packages.

Analyze analog and digital signal flow on order to troubleshoot and operate audio systems. Apply basic musical knowledge in order to create audio recording projects involving professional musicians.

Describe the roles of other professionals who take part in multimedia projects, such as graphic artists, video editors, cinematographers, animators, and web designers.
Program Information
General Requirements
The Audio Recording Technology program prepares students for employment in the audio industry by providing relevant instruction, opportunities for internships and career advancement, and resources for creating professional musical recordings for portfolios of its graduates. The Audio Recording Technology program is responsive to its industry advisory committee, and consistently achieves graduation and placement rates exceeding the standards set by the Texas Higher Education Coordinating Board (THECB).
In addition, please note that a student may only earn one Occupational Skills Award (OSA) per academic year.
TSI testing required prior to first enrollment for all AAS degrees and Level II certificates.
Employment
There are 1,346 Audio and Video Equipment Technicians employed in the Greater Houston Area. This number is expected to increase by 8.3% over the next four years.
The estimated annual job openings is 56 jobs a year.
Median Wages - $18.08 hourly, $38,000 annually
Student Tour Schedule
A visit is worth a thousand words, so check us out firsthand! Our HCC Faculty are here to show you what makes us a great college. There are several ways to visit Houston Community College. Pick the one that fits your schedule and interests.
Schedule a tour
Resources
Search for a Audio Recording Technology/Video Production Professor or get more information
Get in touch
Melvin Mays
Hours of Operation: Mon.-Fri. 8am-5pm