Current and Future Community Needs
Far West Houston Campus Scope Development Report*
In November 2016, HCC commissioned the "HCC Far West Houston Scope Development Report" which suggests that the current Katy-Foxlake Campus is ill-equipped and located to capture the growing population and enrollment potential of West Houston.
Facility Programming and Consulting completed an analysis of the existing Katy-Foxlake Campus and the proposed Far West Houston Campus demographics, scope, and development, and also validated student demand and facility needs. The final report indicated that the existing Katy-Foxlake Campus was near maximum capacity and no longer an ideal location to capture the continued growth of potential HCC students in West Houston. The proposed West Houston Campus location is geographically and demographically ideal to provide a growth opportunity for HCC to serve this community which is expected to continue growth for several decades. The report also identified the need for a 160k SF (Phase I) facility to accommodate the current Katy- Foxlake student population and a growth opportunity for additional capacity. The co-location with the University of Houston system provides yet another compelling reason to move forward with this project.
After review of the study, the population growth, geography changes, and enrollment projections are in line with our expectations and experience. However, for long-term funding and internal requirements, HCC has concluded that the initial building size should be 140K SF, rather than the recommended 160K SF, in order to be more cost-effective. Overall, the report is a good indicator and guide to expanding HCC's reach and potential in West Houston.
On Page 44 of the Scope Development Report, enrollment is projected to increase from an additional 2,000 students annually in year 2022 to an additional 5,000 students annually in year 2036. However, in July 2018, Facility Programming and Consulting revised its original growth projections to increase to 5,000 students annually in year 2030 and 6,000 students annually in year 2036. While the area is growing faster than originally projected, the administration still recommends initially building a 140K SF building. Given the planned building size, the cash flow projections reflect a maximum enrollment increase of 3,000 students annually. See the Financials in the Appendix for a file entitled "Katy Project Incremental Cash Flow Projections," which illustrates a positive cash flow for the first 27 years of $29 million and a file entitled "Katy Project Total Cash Flow Projections" with a positive cash flow of $100 million.
*Full report available upon request
Enrollment
Although the Katy ISD currently approaches 80,000 students, and status as the sixth largest school district in Texas, enrollment projections continue to grow with an estimated 100,000 students by 2028. The staggering growth in West Houston's primary and secondary education has, and will transition into post-secondary education demand, and if conversion rates of approximately 10% persist into the HCC system, we can expect larger levels of college enrollment.

Given the projected enrollment increases for West Houston, the current facilities are not large enough to accommodate an increase in students, and, additionally, cannot support more in-depth STEM programming due to inadequate science and engineering labs.
We propose building a 140K SF facility, as the anchor of an expansion initiative, in order to capture this demand. As noted on page 7, it is projected that there will be an additional 6,000 students annually in year 2036, which will exceed the maximum capacity of a 140K SF building and requires increasing the building's size or constructing additional facilities on the same tract of land. The cash flow projections in the appendix only include the maximum enrollment of 7,000 for the initial recommended 140K SF facility and do not assume any expansion. Expansion of the campus will be necessary as the enrollment projections are realized.
Competition
HCC faces an increasingly competitive environment in the Katy Area. For-profit universities are moving aggressively into the area and Lone Star College has opened a new facility on the edges of the district, only 3 miles from our existing Katy Campus. HCC must stake out a unique position in this extremely promising educational market or risk losing market growth opportunities permanently.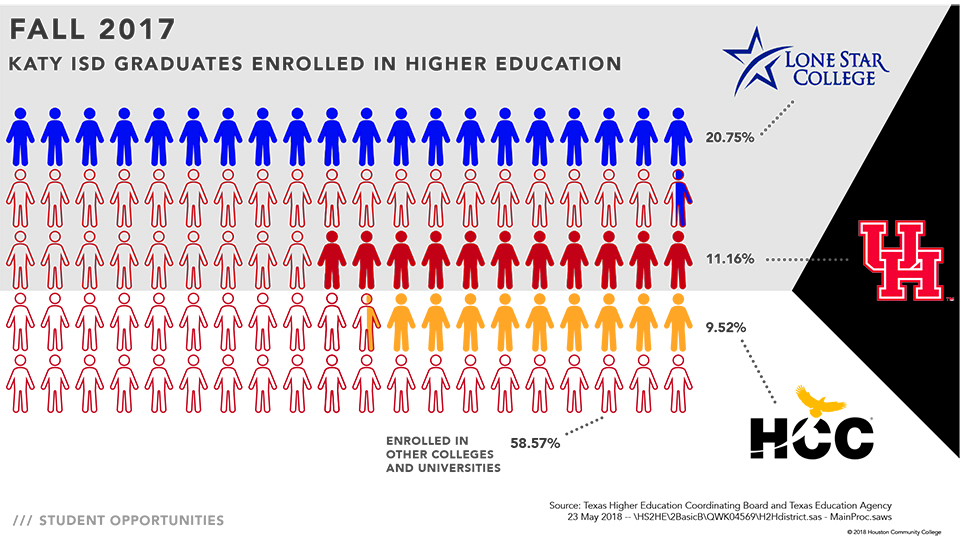 Programming and Pathways
Burgeoning community and business growth in Katy is expected to sustain the need for a college-educated workforce. HCC will be at the forefront of these needs through our comprehensive programming focused on STEM academics, which include engineering, nursing, and computer science.
The HCC Pathways program, which will allow students to start and finish their undergraduate education in Katy, is core to the future of this workforce. Through a partnership with the University of Houston system, we are creating direct pathways, in education and STEM programming, from HCC to the University of Houston. The 9-16 teaching program will allow high school students to begin to pursue an education degree through the dual credit association and HCC and enter the University of Houston-Victoria a few credits short of an associate's degree. As we continually expand our partnership, we are exploring the opportunity to provide an enhanced engineering pathway direct to the Cullen College of Engineering at the University of Houston-Main Campus. This program is designed to create a joint engineering environment, with the first two years completed at HCC in Katy.
Our commitment to 60x30TX
In 2015, the Texas Higher Education Coordinating Board committed to a vision of securing the economic future of Texans through successful completion of higher education. By 2030, sixty percent of Texans ages 25-34 will have a certificate or degree. Houston Community College "is one of 12 two-year colleges from across the state leading this work in support of the Texas Higher Education Strategic Plan." This initiative paired with our ongoing programming, work with Pathways, and co-location strategy is paving the road for attaining the four goals outlined for this program: an educated population, completion of a certificate, associate, bachelor's, or master's, attainment of marketable skills, and capping student debt at 60 percent of first-year wages. Pathways will secure certificate or degree completion while also leveraging lower tuition costs during the early years to cap student debt. Our commitment to robust STEM programming will ensure that students entering HCC will graduate with marketable skills required by the community and local economy.
Long-term Future Masterplan
In order to sustain and supplement the proposed investment, HCC will offer programs to spur community support and buy-in. Proposed programming could offer building naming rights in addition to economic development opportunities and should result in leveraging the HCC investment for a larger state investment.