Automotive Technology Student Success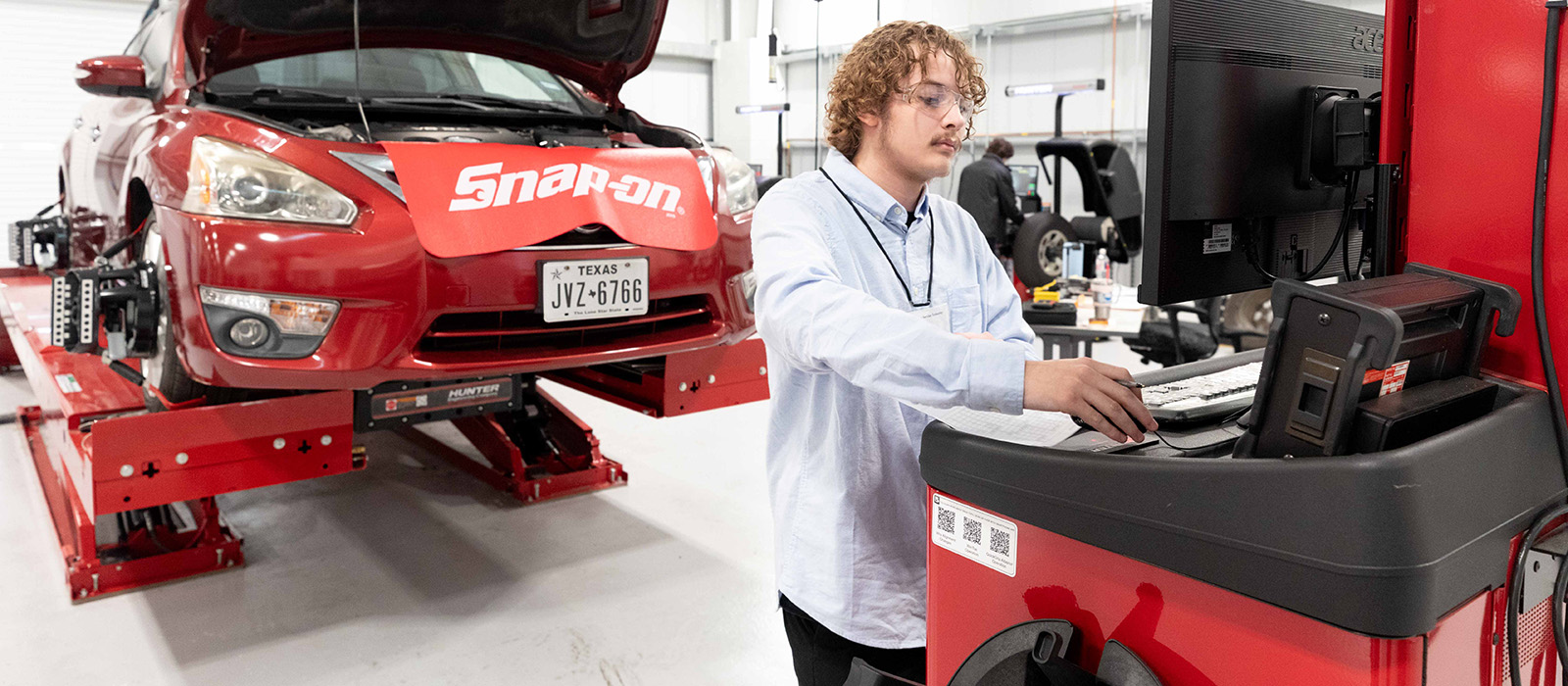 Our Mission as Workforce Success Coaches is to help students develop the skills and capabilities needed to succeed in career and technical education programs while in school and to be able to apply those skills and capabilities in the workforce once they have completed their program. Through proactive listening, intrusive advising, and cross-functional collaborations, success coaches engage with students throughout their college experience cycle, from outreach and pipeline building through matriculation, to graduation, and transfer while ensuring success every step of the way.
Success Coach Responsibilities:
Determining the personal and professional goals of individual students and identifying potential challenges.
Developing realistic and effective strategies toward realizing goals.
Providing goal-oriented guidance and steps to success, as well as encouraging active participation.
Facilitating follow-up sessions and integrating feedback.
Performing progress assessments and utilizing motivation techniques.
Encouraging clients by recognizing milestones and mitigating challenges that hinder progress.
Promoting success-enhancing cognitive, psychological, and physical habits and routines.
Consulting and collaborating with other stakeholders on students' progress, where relevant.
Regularly reporting on the progress made and results obtained with students.
Pursuing continued professional development and keeping abreast of advancements in the field.
Registered Apprenticeship Program
Registered Apprenticeship ProgramThe Apprenticeship program is an employer-driven model that combines on-the-job learning with related classroom instruction that increases an apprentice's skill level and wages. HCC's Transportation, Center of Excellence has two registered apprenticeship programs:
Automobile Maintenance and Light Repair Technician
Diesel Technician
Cooperative Learning/Internship Program
The cooperative learning /internship (co-op) program is a work-based learning approach or instructional methodology that uses the workplace or hands-on experience to provide students with the knowledge and skills that will help them connect school experiences to real-life work activities and future career opportunities. Students are required to enroll in the co-op course, which is their capstone course. Additionally, students are required to work in automotive or diesel repair sector while in the co-op course.
Student Success Workshops
Orientation
Description: Success coaching is focused on guiding students as they move closer to achieving their academic dreams; while maintaining a healthy school and life balance. It connects recruitment, engagement, active learning, and student success. Success coaching is about the individual student and provides an opportunity for students to develop a sense of self-awareness, make self-discoveries, form a sense of belonging, develop critical thinking and decision-making skills and competencies, and focus on participating in new possibilities and options as they move towards achieving set goals and objectives.
Setting Smart Goals
Description: As a college student, it is important to have direction. This workshop breaks down how to develop realistic, action-oriented goals to help reach your greatest potential.
Your Network is Your Net Worth
Description: Most knowledge comes from "not what you know, but who you know." This workshop will give students tools and resources on how to build connections with faculty and staff here at Houston Community College (HCC)
Develop Effective Relationships with Faculty & Staff
Description: Students must be active participants in their learning. This workshop shares strategies on how to develop strong connections with faculty and staff that will ultimately contribute to their academic success.
Organizing Yourself for Academic Success
Description: Being successful is something every college student envisions. This workshop outlines the habits of successful college students and explains how to incorporate them into your life. Students will be given powerful organization tips for their academic success.


Studying & Test Taking Strategies
Description: Students may get away with not studying in high school, but college courses require hard work to pass. How can I become a better test taker? Join us to discuss strategies for maximizing your test grade, including managing test- induced anxiety. Handouts will be available.
Financial Literacy Workshop
Description: College students face other expenses besides tuition. Food, books, transportation, and childcare costs also add up. Without a clear budget, college students might end up living beyond their means and then find themselves unable to pay their bills. This workshop is to assist students with learning how to budget.
Test Taking Strategies
Description: How can I become a better test taker? Join us to discuss strategies for maximizing your test grade, including managing test-induced anxiety. Handouts will be available
Stress Management
Description: With so much going on in our day to day living. It is imperative that we find ways to manage our stress levels. We need to stay mentally, emotionally and physically fit to be successful. This interactive workshop shares how to incorporate healthy habits into a busy life.
Résumé and Cover Letter Workshop
Description: Part of student success means being prepared for the job force. It's always better to start early on your resume so that you don't miss any opportunities that arise during the year! This workshop will help students understand the basic format of a resume, along with all the information they should include in it. Additionally, we'll discuss the importance of a strong cover letter and how to write one. Finally, we'll conclude with some tips and tricks for making your resume and cover letters stand out!
Mastering the Interview Workshop
Description: Students will learn how to prepare for an interview learning how to research the company/organization and position. Think about your skills and qualifications that are relevant. Prepare your responses & stories/examples. Practice interviewing/conducting a mock interview. Plan what to wear, what to bring, & your driving route.
Creativity for Mental Wellness
Description: Mental wellness is our ability to handle stressful situations that are thrown our way in life. The way we handle these situations is known as our coping mechanisms. This workshop takes us through using a healthy coping mechanism–creativity and art–as an outlet for difficult times. We will focus specifically on writing as an outlet for our feelings and how to incorporate writing for mental wellness into our everyday lives. Key skills include understanding coping mechanisms and the difference between healthy and unhealthy ones, how to make writing a fun and healthy practice, and ways to make time and space for creativity in our lives.
Please note that this workshop is not meant to take the place of professional mental health services.
Career Choices and Your Paycheck
Description: Heading out into the job market as a recent college grad can be overwhelming, with so many benefits and pay structures to consider. This seminar is designed to walk you through the process of understanding all the benefits an employer may offer and how to start making good financial decisions from day 1 of your first job.
Test Anxiety
Description: Test anxiety is a combination of physical symptoms and emotional reactions that interfere with your ability to perform well on tests. Many students experience varying levels of test anxiety for a number of different reasons. If you're someone who does, check out these suggestions and resources to reduce your text anxiety and improve your overall testing experience in college.
Ahead of Schedule: Planning for Finals

Description: Procrastination and disorganization during finals can make life in college much more stressful. Join us to break down how to get the best of studying for finals and not having to pull those all-nighters!
Student Academic Progress (SAP) & Academic Standing Information
Description: Understanding your Academic Standing is very important. Academic standing is a formal notice of a student's academic progress. The rules for academic standing are intended to define what is expected of the students and give them an opportunity to meet the College's academic expectations. At the end of each semester (fall, spring, summer), each student's academic standing is reviewed for action.
For more information on Student Success Workshops contact:
Dr. Tracy Beasley
Email: tracy.beasley@hccs.edu | PH: (713) 718-7974
Get in touch
Dr. Tracy Beasley