PVF Roundtable donates $40,000 to HCC for student scholarships
Mar 25, 2022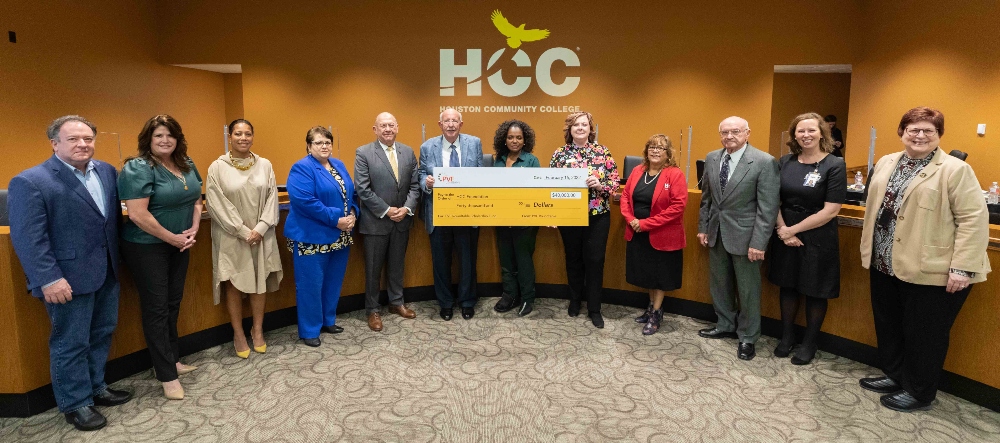 A manufacturing industry organization has donated $40,000 to Houston Community College to help students to succeed in skilled trade careers.
The PVF Roundtable donation this month brings the organization's total charitable contributions to the college to $150,000 since 2017 to fund scholarships for students to pursue jobs in manufacturing such as a welder, manual machinist, CNC machinist and industrial mechanic.
Madeline Burillo-Hopkins, HCC's vice chancellor for workforce instruction, said the donation from the pipe, valve and fitting group will help the college to fulfill its mission of educating students in diverse communities in the greater Houston area.
"I would like to express our deep gratitude to PVF Roundtable for their support of HCC in our efforts to help promote access to educational opportunities for those students who need help," said Burillo-Hopkins, who also is president of HCC Southwest.
Alberto Urbina, dean of the HCC Material Science and Smart Manufacturing Center of Excellence, said the gift would help prepare students for in-demand, skilled trade jobs.
"There's a large need for machinist, manufacturing technicians, industrial mechanics and welders for many projects at Texas refineries, manufacturing facilities and production shops" he said. "PVF Roundtable's generosity will help increase career opportunities for our manufacturing students."
Sara Alford, PVF Roundtable president, said it's important to support the next generation of skilled technicians.
"The PVF Roundtable values the impact HCC is making on college students' lives by guiding and supporting the young folks looking to enter our industry," she said. "We appreciate the longstanding relationship we have had and the great things we can do together in the future."
Krystal Hatfield, marketing chair of the PVF Roundtable Board of Directors, said students today need all the help they can get to succeed in skilled trade careers.
"If we can provide a scholarship and assist with providing the tools these students need, chances are they will re-enroll and stay in school," she said. "The stress on these students is immensely daunting with the pandemic and surging gas and food prices. Anything we can to do to help them stay on task and enter our industry with new ideas, that's what we're going to do."
« Previous Article
Next Article »
---