HCC Dean of Consumer Arts & Sciences Suzette Brimmer selected for prestigious leaders forum
Jan 26, 2022
Suzette Brimmer, HCC Central College's Dean of the Consumer Arts & Sciences Center of Excellence, has been selected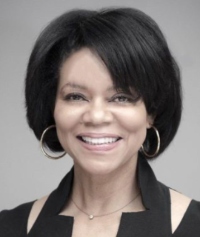 to participate in an elite national mentoring program for emerging leaders seeking to become the next generation of higher-education presidents.
Brimmer is part of the 2022 cohort of The Rutgers Center for Minority Serving Institutions (CMSI) a two-year mentoring program connecting mid-career aspiring leaders from Minority Serving Institutions (MSI) with leaders from the education, non-profit and business sectors.
The competitive program, developed by the Rutgers University Graduate School of Education and funded by the Kresge Foundation and the ECMC Foundation, selected only 14 Aspiring Leaders from public and private colleges and universities in the U.S. This group will be paired with presidents and former chancellors from public and private higher-educational institutions, and participate in a one-on-one relationship over two years managed by CMSI.
"Right now we're seeing a decline in leaders hoping to become college and university presidents. We hope to reinvigorate the incoming generation and prepare them for success as they navigate the road to presidency," said Marybeth Gasman, CMSI Executive Director and Samuel DeWitt Proctor Endowed Chair in Education.
The program begins with a three-day forum, which takes place April through May of 2022.
"This is a dream opportunity for me," says Brimmer. "I am thrilled to have the chance to learn from such a distinguished group of leaders, and I thank my supporters at HCC for helping me achieve this career milestone."
The 2022 cohort of MSI Aspiring Leaders
Suzette Brimmer, Houston Community College
Tamara Brown, University of North Texas
Yvonne Hernandez Friedman, University of Houston-Clear Lake
Detris Honora Abelabu, Boston University
Kristie Johnson, Martin University
Wayne Knox, Huston-Tillotson University
Ame Lambert, Portland State University
Marilú Marcillo, St. Peter's University
Santiago Piñón, Texas Christian University
Bobbie Porter, California State University, Fullerton
Sakinah Rahman, Bryn Mawr College
Andrea Rehn, Whittier College
Francine Toliver Edwards, Delaware State University
Kent Willis, The University of Texas at Tyler
The 2022 MSI presidential mentors
Roslyn Clark Artis, President, Benedict College
John Bassett, former President, Heritage University and Clark University
Colette Pierce Burnette, President, Huston-Tillotson University
Mildred García, President, American Association of State Colleges and Universities, former Chancellor California State University, Fullerton, and California State University, Dominguez Hills
Saul Jiménez-Sandoval, President, California State University, Fresno
Charlie Nelms, former Chancellor, Indiana University East, University of Michigan-Flint, and North Carolina Central University
Linda Oubré, President, Whittier College
Alvin Schexnider, President, Schexnider & Associates, LLC, former Chancellor Winston-Salem State University, and Norfolk State University
William Serrata, President, El Paso County Community College
Vinton Thompson, President Emeritus, Metropolitan College of New York
Rowena Tomaneng, President, San Jose City College
David Wilson, President, Morgan State University



« Previous Article

| Next Article »