HCC and Work Texas win 2021-2022 Innovation of the Year Award
May 19, 2022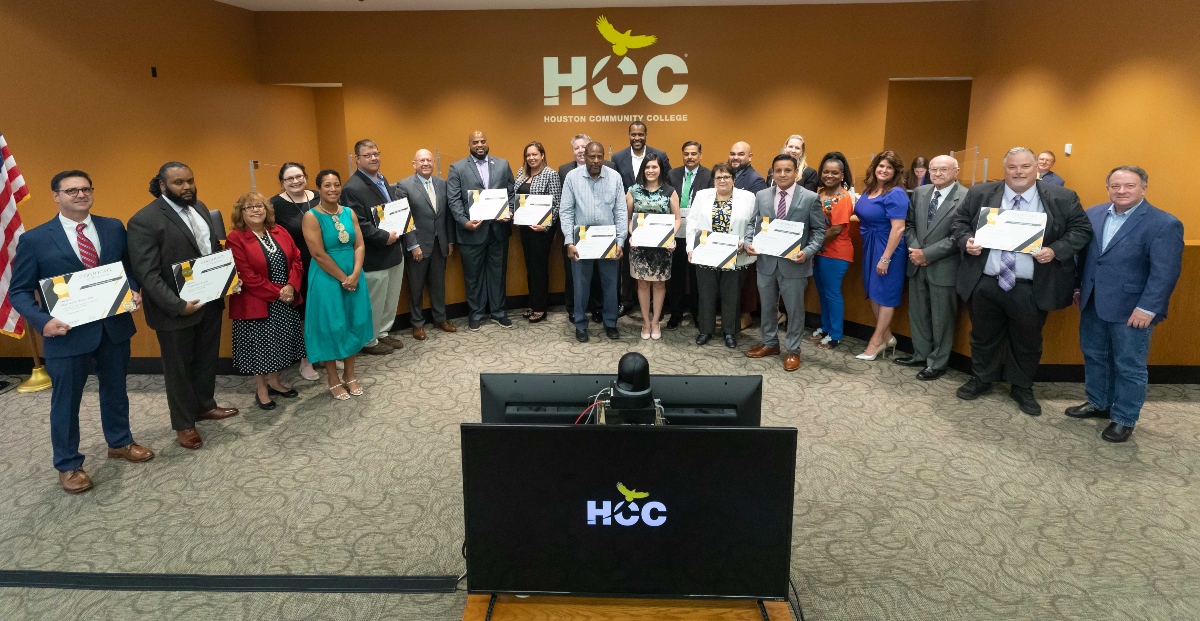 Award honorees were recognized by the HCC Board of Trustees at a meeting on May 18, 2022.
A team of Houston Community College leaders and educators has won the 2021-2022 Innovation of The Year Award from the League of Innovation in the Community College, an international nonprofit organization with a mission to cultivate innovation in community colleges.
The award stems from work that began in 2019, when HCC joined with Work Texas, a nonprofit formed by Gallery Furniture owner Jim McIngvale, to advance the mission of helping more people get jobs, keep jobs and advance in their careers.
When the pandemic hit in 2020, the partnership quickly escalated its work, as some 300,000 regional jobs were lost. McIngvale, the entrepreneur known as Mattress Mack, retrofitted a 16,000-square-foot retail location at 6006 N. Freeway Gallery into a workforce training site, with lab space for instruction in electrical and welding technology, carpentry, residential construction and child development as well as additional classroom and office space for a charter school to offer high school equivalency completion diplomas.
That's where a team of HCC professionals were deeply involved, first outfitting the labs with tools and equipment and planning programs to allow HCC to provide education to participants. For their work in facilitating and continuing the project, Innovation of the Year Award.
"This is a perfect example of the tremendous good we can do in our community when working with leaders in business like Jim McIngvale," said Chancellor Cesar Maldonado, Ph.D., P.E. "I could not be prouder of this creative initiative to prepare people for in-demand jobs and that improve lives and our community."
The HCC honorees are:
Dr. Madeline Burillo-Hopkins, president, Southwest College
Kendrick Chenier, faculty, Architectural Design and Construction COE
George Davis, director, Continuing Education Program
Sylvanus Donaie, faculty, Architectural Design and Construction COE
Nakia Edwards, interim executive director, Adult Education and Literacy
Dr. Desmond Lewis, interim associate vice chancellor, College Readiness
Hugh Mann, faculty, Transportation
Christopher Moss, faculty, Material Sciences and Smart Manufacturing COE
Dr. Christina Robinson, director, Work-Based Learning and Industry Partnerships
Dr. Muddassir Siddiqi, president, Central College
Emilio Tarango Gaytan, faculty, Material Sciences and Smart Manufacturing COE
Alberto Urbino, dean, Material Sciences and Smart Manufacturing COE
David Vogel, dean, Transportation COE
Dr. Michael Webster, associate vice chancellor, Workforce Instruction
Dr. Samuel West, director, P16
The HCC team will be officially recognized during the annual League for Innovation Conference next year.




« Previous Article

| Next Article »