Success Stories - Southeast
HCC host interview with Alexis Terrell, entrepreneur
Oct 18, 2018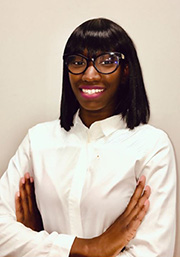 Alexis Terrell is a dynamic and energetic student who graduated recently with the Class of 2018 in Business. She also participated in HCC's pilot program called the "Aspiring CEO Institute", where she was voted CEO of the virtual company called Juice IT. Alexis is a single mom of a two year old son, Landyn. She has skillfully managed to handle all of these activities while working a full-time job. We at HCC, SE Center for Entrepreneurship would like to salute Alexis for all of her hard work and help prepare her for her dream of becoming a real CEO!
Interview between HCC and Alexis:
HCC: How did you manage to care for your son Landyn, work full-time and attend HCC as a full-time student?
Alexis: It had its ups and downs from the start, but I persevered. During my first semester, I took most of my classes during the morning and my family watched Landyn for me. I would work in the evenings and weekends and take Saturday classes. However, during my final semester, it became more difficult because I started working in the daytime and attending classes in the evening, but my family continued to help me with Landyn and I pushed through. I also managed to spend as much quality time with my son as possible whenever I could get a free moment.
HCC: Why did you choose Houston Community College?
Alexis: Why not HCC? HCC has provided me with an experience I will never forget. My professors went above and beyond to make sure we received much more than what was in a textbook. I was allowed to attend conferences, networking events, and was introduced to programs that helped me to be successful. My professors encouraged me to go after my dreams! I also loved how close my campus was to my home and the tuition is very affordable. I was also offered a scholarship and I truly believe that HCC is a community builder and an opportunity for a fresh start to my career goals.
HCC: What made you major in Business?
Alexis: The "funny" thing is that I never planned on choosing business as a major. I initially believed I could just handle things on my own but was worried that I may run into problems down the road. So…one day I was trying to decide which direction I wanted take regarding my career so I started to pray for guidance. So I
got my answer and decided to choose business. My choice was based on wanting to help change people's lives, build communities, and enrich the lives of other women around me. I want to be an example and provide women with a better outlook on life and let them know that they are not alone.
HCC: Did you have any business or entrepreneurial experience before attending HCC?
Alexis: At a very young age when I was just 20 years old, I had the opportunity to move up to management level very quickly at a company called Gymboree. I initially applied to be an assistant manager but there were no job openings. The company offered me an opportunity to apply for a key holder position until an assistant manager position would become available. I accepted the position and was asked just three weeks later if I would trained three new key holders, then the entire staff and the store manager. The company was impressed and I was transferred to the Galleria area store to become an assistant manager in one of our top selling stores. After four months, I was promoted again to store manager. My store was used as the official "training" store for the district. This led me to be placed on a project management team that assisted in opening up several new stores in the Houston area. I was the youngest store manager in my region. Gymboree has taught me valuable leadership skills, training techniques, and the importance of promoting others to next level. My store was ultimately featured in the company newsletter several times while winning countless company contests. The opportunity that I had with Gymboree has shown me that I have an entrepreneurial spirit and can excel in business.
Alexis Terrell is on her way to a successful career in business and entrepreneurship. Houston Community College looks forward to following her journey and helping her continue to succeed. Alexis is currently working with the Southeast, Center for Entrepreneurship and the Entrepreneur in Residence she prepares for the future.
« Previous Article | Next Article »
---