HCC PitchFest Competition & EXPO
Fall 2022 - Engage. Create. Grow.
HCC PitchFest Competition & EXPO
FALL 2022 PROGRAM RE-CAP:
CONGRATULATIONS:
FINAL ROUND - FALL 2022 WINNERS
| PLACE | AWARD | Startup Name | First Name | Last Name |
| --- | --- | --- | --- | --- |
| 1 | $1500 | 24 - Flora Enterprise | Meridith | Malo |
| 2 | $750 | 12 - Panoply Co. | Hannah | Chu |
| 3 | $500 | 11 - Petjoyz | Abduljaleel | Johnson |
| - | $100 | 17 - Kol'Ory | Anthony | Garza |
| - | $100 | 4 - The HIVE | Gracie | Dishongh |
---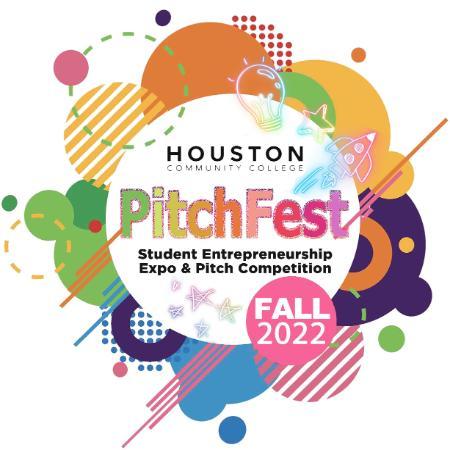 HCC FALL 2022 PitchFest competition & Expo is designed for students to share their creative ideas and innovation projects.
All CREATIVE IDEAS & INNOVATIONS are welcome!
The HCC PitchFest Competition for FALL 2022 is a platform for students to share their creative ideas and innovations.
$2,500 for cash prizes sponsored by Southwest Center for Entrepreneurship!
The competition is designed to explore innovative approaches to answering pressing societal needs and spark an atmosphere of social dialogue and community. Students must complete a simple application regarding their idea that addresses one of the categories listed below:
HCC PitchFest Competition accepts student projects/startups from September 15th to November 30th by 5 pm CST! Extended to December 4th, 2022, at midnight!
The competition Finalists' Presentation and Awards Ceremony will be held at the West Loop Campus on Saturday, December 10th, 2022, between 1 pm to 3 pm. Note: On the same day, a Student Showcase Expo will take place from 10 am to 12 pm, and Lunch and Learn Panels from 12 pm to 1:00 pm.
The HCC PitchFest Competition aims to provide financial and institutional support for students who want to impact the world through entrepreneurship. HCC is eager to harness the creativity and passion of Houston's student body to catalyze social change.
Note: Click on the ⊕ icon to see more
More about the competition
READY? Let's Go
Complete the PitchFest Competition Application Below:
Please read the instructions carefully and stay within the guidelines.
HCC reserves the right to disqualify any miscategorized or incomplete entries.
NOTE: If you are selected as a winner and awarded cash prizes and/or an internship and/or access to an accelerator program, please be aware that you are responsible for making the necessary arrangements to commence the opportunity in a timely manner. Once you start your opportunity it is understood that you will abide by the terms and conditions of the program as required by your host organization.
Furthermore, by participating in the competition you agree to release and hold HCC, its officers, directors, employees, agents, and contractors harmless from any and all losses, damages, rights, and actions of any kind (including reasonable attorneys' fees) in connection with or resulting from, participation in the competition including—without limitation—personal injuries, death, property damages and any claims by third parties or otherwise based on publicity rights, defamation, copyright, trademark, invasion of privacy or other violations of law relating to your participation in the competition or its opportunities.
---
For more information, call the Office of Student Innovation & Entrepreneurship at 713.718.5269 or email: ravi.brahmbhatt@hccs.edu
HCC IDEAS Competition events schedule, rules, awards, and this page was updated on 02/22/2022.
Check out the Past competitions and winners:
Check out the videos/pictures from Inventathon@HCC: