IDEAS Academy
Developing student mindsets and skillsets for a digital and global 21st century
Explore, Imagine, Create!
IDEAS Academy is a new kind of learning experience at the West Houston Institute where students develop the mindsets and skillsets used by innovators, designers and entrepreneurs that will help them thrive in a digital and global 21st century society.
IDEAS stands for Innovation, Design, and Entrepreneurship integrated into the Arts and Sciences. The name also signifies the power of big ideas to change the world. Through individual coursework and real-world design challenges, students learn how to:
Connect the dots to recognize opportunities
Utilize idea generation techniques
Prototype concepts using digital tools
Launch their realized ideas into the world
The West Houston Institute's IDEAS Challenge, "Plastic Planet Remix" has concluded its Spring semester program. A website has been developed by student innovator, Anh Vo, to share all of the projects as well as to provide information learned about the history of plastic and the problem of plastic waste in the environment.
This year, IDEAStudio has been looking at the problem of plastic waste through the "Plastic Planet Remix Challenge". To keep things going as we all are work and go to school from home, we will host several virtual activities to celebrate the 50th annual Earth Day, April 22, 2020.
Faculty and students will work across STEM disciplines to research and apply current research and technological innovations to the problem of plastic waste. This collaboration of the HCC Engineering Center, West Houston Institute, Center for Digital and Information Technology, Life & Natural Sciences, and Mathematics Divisions is in support of the National Science Foundation Louis Stokes Alliance for Minority Participation (LSAMP) - Harris County Community College Alliance (HCCCA) Grant.
2018-19: 2020 Census Challenge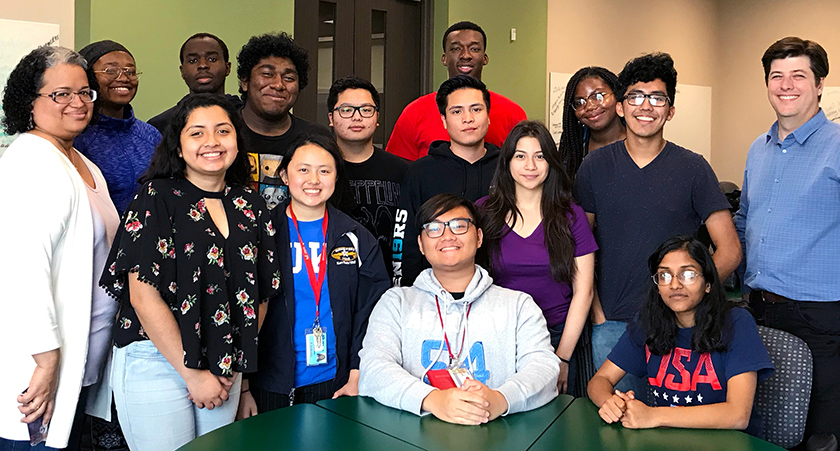 "How can we inspire youth engagament in the 2020 Census to erase the undercount in Houston?"
In Spring 2019, Mayor Sylvester Turner challenged HCC students to design ways to inspire schools and communities to participate in the upcoming 2020 Decennial Census and help erase Houston's historic undercount. Full participation in the Census would provide billions in additional federal funding and increase the number of elective representatives in the region.
IDEAS Academy's Alief Early College students, along with traditional HCC students in Technical Writing and Government classes, accepted the challenge and worked throughout the semester to develop communication strategies targeted at specific populations, including youth aged 14-19, international residents, and minority communities.
Learn more about this cohort
Spring 2018: Food Security Challenge
"How can we connect Houston's neighborhoods with fresh and healthy food?"
In Spring 2018, Houston Community College's West Houston Institute selected 20 seniors from Alief ISD's Early College High School to launch the inaugural cohort of IDEAS Academy. We partnered with the Houston Mayor's Office of Innovation to provide students with an authentic design challenge to address over the course of the semester.
Learn more about this cohort
IDEAS Academy
Jordan Carswell
West Houston Institute
2811 Hayes Rd., Houston, TX 77082