Carolyn Evans-Shabazz
Trustee Carolyn Evans-Shabazz, Ed.D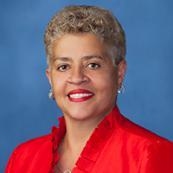 Appointed to the Houston Community College Board of Trustees in May 2015, Dr. Carolyn Evans-Shabazz serves as the representative for District IV. The native Houstonian comes from an impressive line of educators and believes education is the centerpiece of the American Dream. Dr. Evans-Shabazz is the daughter of the late Edward B. "Doc" Evans, former coach of the Jack Yates lion's basketball team and the late Catherine Williams Evans, a teacher in the Houston Independent School District. She is also the granddaughter of the first president of Prairie View A & M University, Dr. Edward Bertram Evans, Sr.
A graduate of Spelman College with a degree in Political Science, she also received her Master's degree in Psychology and Doctorate in Education (Counselor Education) from Texas Southern University. Currently a real estate professional trained at HCC, Dr. Evans-Shabazz has been a teacher and Lead Evaluation Specialist with the Houston ISD, an educational diagnostician with both Aldine and Fort Bend ISDs, and an adjunct professor at Texas Southern University.
She is a member of the Executive Committee of the NAACP-Houston branch where she serves as Chair of the Education Committee. Active in the community, Dr. Evans-Shabazz enjoys addressing issues that bring equality for all people.
Dr. Evans-Shabazz has a passion for making a difference for families and children and knows that a strong focus must be placed on providing a means of employability for our students who in turn will become productive parents and, or contributing members of this great city and society. She says the success of HCC positively impacts the educational and economic climate of our entire city. Her goal as trustee for District IV will be to address workforce training and development, to increase scholarships for students in the HCCS services areas, and to increase women, veteran, minority and small business owner participation.
News
---
The Houston Community College Board of Trustees has elected Trustee Carolyn Evans-Shabazz as its chair for the second consecutive year.
Winter 2019 Newsletter from Trustee Carolyn Evans-Shabazz
Winter 2018 Newsletter from Trustee Carolyn Evans-Shabazz
Houston Community College (HCC) Board of Trustees members Dr. Carolyn Evans-Shabazz and Trustee Robert Glaser were re-elected to their positions Tuesday.
At its August 17 meeting, the HCC Board of Trustees elected Dr. Carolyn Evans-Shabazz as the new vice chair of the board for the remainder of 2017.