IDEAS Pitch Competition
IDEAS Pitch Competition - Fall 2018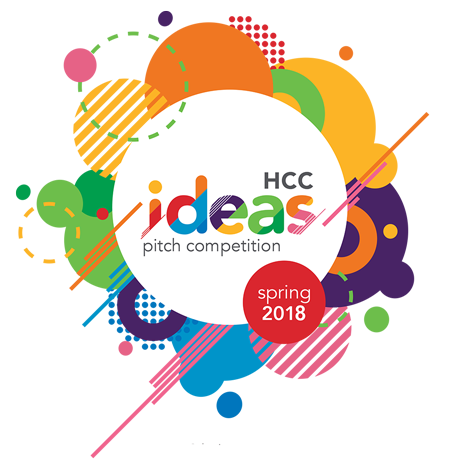 Houston Community College's IDEAS Pitch Competition is designed to explore innovative approaches to answering pressing sustainability and societal needs.
The competition is open to currently enrolled students in any greater Houston area High Schools and Colleges.
All IDEAS welcome!
The IDEAS Pitch Competition for Fall 2018 is a platform for any Houston-area student to share their creative ideas and social innovations.
First Prize: $1500
Second Prize: $700
Third Prize: $500
2 honorable mentions: $150
The competition is designed to explore innovative approaches to answering pressing societal needs and to spark an atmosphere of social dialogue and community. Students must complete a simple application and (optionally) upload a two-three minute video on YouTube (include a link on application) that addresses one of the categories listed below:
Categories
Education & Skills: investing in the sustainable workforce for today and tomorrow.
Alleviating Poverty: issues related to improving income inequity and cost of living.
Economic Advancement: job creation, entrepreneurship, and financial literacy.
Community Wellbeing: access to parks, Transportation, health, and nutrition.
Technology: new tools and applications to help resolve a pressing issue.
HCC Pitch Competition opens August 27th, 2018. Competition to be closed October 5th, 2018 at 5 p.m.

Competition Finalist Presentation and Awards Ceremony will be held at George R. Brown Convention Center during the Houston Maker Faire on October 13th, 2018 (Finalist will be announced by Email for the invite-only program)
The goal of the HCC Pitch Competition is to provide financial and institutional support for students who want to make an impact on the world. HCC is eager to harness the creativity and passion of Houston's student body to catalyze social change.
More about the competition
---
Sponsored by the Office of Entrepreneurial Initiatives, 3100 Main St. Houston, TX 77002

For more information, call Office of Student Innovation at 713.718.5269 or email: ravi.brahmbhatt@hccs.edu
IDEAS Competition events schedule, rules, awards, and this page was updated on 8/23/2018.
Check out the Past competitions and winners:
Check out the pictures from Inventathon@HCC: