HCC Northwest Community Learning Program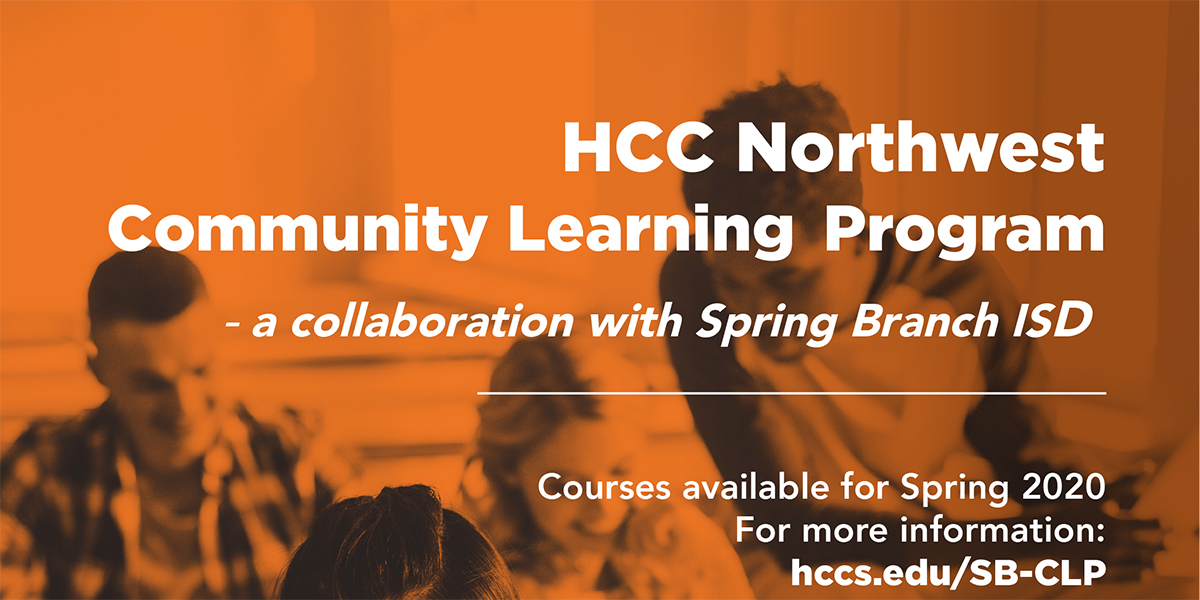 The HCC Northwest Community Learning Program offers a variety of personal enrichment classes that provide opportunities to learn a new skill, build on proficiency, or explore a new interest. These Community Learning courses provide the Spring Branch community with learning opportunities that include personal development, enrichment, recreation, and academic workshops.
Classes take place at the HCC Spring Branch campus, 1010 West Sam Houston Parkway North, Houston, TX 77043.
Offered mostly during evening hours and on Saturdays. Interested individuals can view course schedule and register using the form below.
Adult & Youth Dance
Personal Finance
Computer Skills
Cultural
Art & Music
Gardening
Spring branch Community Learning Program
Register
Course Descriptions

Adult Dance

Yoga

Discover the many benefits of yoga and bring calmness, stress reduction and a feeling of well-being to your life. The structured yoga poses release tension and bring flexibility to the shoulders, neck, back, hips and legs. For beginners or experienced students. Wear loose-fitting clothes and bring your own yoga mat to class.

Flamenco

Are you ready for a dance that is fiery, exciting, passionate and distinctive? Be a part of an ancient art form, moving to traditional music with flamenco dance. Master the foundational steps, practice basic footwork, and fall in love with moving to the music.

Tap

Are you ready to have some fun on the dancefloor? Come learn basic steps and tap routines that are perfect for beginner to intermediate learners.

Tap II

Expand your Tap portfolio by adding new moves to your routine while improving your technique and presentation.

Jazz for Exercise

Get your body moving! Learn simple jazz choreography while having a great time taking care of yourself.

Jazz II

Are you ready to take you Jazz Dance skills to the next level? Learn more advanced techniques and sharpen your dance skills with instructor Wendy Reeves.

Ballroom Dancing

(Social Dancing)

Do you want to learn social dance techniques in a stress-free and fun atmosphere? Here you will be introduced to basic steps and fun patterns of ballroom dancing while learning to step in sync with the music and connect basic patterns for a social dancing environment. While learning the basics you will develop your lead or follow skills for successful partnering on the dance floor. Singles as well as couples are welcome.

Country & Western Dancing

Are you ready to scoot your boots on the dance floor? In this class you will be instructed in country western Two-step, Waltz and Polka dance steps. After this class you will be able to dance without worry that you are on the wrong foot in social settings. Partners are encouraged but not necessary.

Middle Eastern Dancing

Discover one of the most beautiful dances around the world! This all-inclusive dance style invites all sizes, shapes and ages to join the fun of "belly dancing."

Youth Dance

Ballet

Classes range by age and skill, elementary through high school

Ballet Pointe

Advanced youth

Tap

Classes range by age and skill, elementary through high school

Jazz

Classes range by age and skill, elementary through high school

Music

Group Piano for the Beginner

Develop your musical talent with the piano. As a group learn the fundamentals of note reading and translate to the keyboard. Learn how to play simple tunes and chord patterns.

Group Guitar for the Beginner

Ready to get started with the guitar! Students will learn in a group setting focusing on the fundamental of playing a guitar. No prior skill or training is necessary. Students will learn basic chords, scales and technique. Bringing your personal guitar is required.

Art

Fundamentals of Painting

This class is designed for the beginner painting student to gain proficiency in the art of painting while providing learning the fundamental techniques of painting and materials. We will focus on still life and interior spaces.

Intro to Watercolor

Want to explore your creativity? This is the perfect watercolor class for beginners. Discover paining techniques specific to watercolor.

Intro to Drawing

Are you ready to unlock the artist inside you? Come develop your skills with this hands on course? You will be introduced to basic pencil drawings as well as shading and other basic techniques of drawing.
History of the Biblical Era

Canaan & Tribal Israel in the Egyptian Period

This seminar will cover the period between 1500 BCE – 1000 BCE, tracing the geography surrounding the Israelite migration from Egypt to Canaan. You will be introduced to the people groups of pre-Israelite Canaan and discuss the role of the Egyptian superpower in this period. The introduction of Yahwism will also be addressed.

Israel and Judah in the Pre-Exilic Assyrian Period

In this seminar we will cover the period from approximately 1000 BCE - 722 BCE, discussing the development of the Israelite kingdom state and its division into two distinct kingdoms. In addition the nature and expanse of the Assyrian Empire will be reviewed.

Israel and Judah in the Pre-Exilic Assyrian
Period

In this seminar we will cover the period from approximately 1000 BCE - 722 BCE, discussing the development of the Israelite kingdom state and its division into two distinct kingdoms. In addition the nature and expanse of the Assyrian Empire will be reviewed.

The Exile of Judah and Babylonian Period

This informative session addresses the period from 722 BCE - 539 BCE including the extent and practices of the Babylonian Empire. The capture and exile of Judah will be covered, as will the conditions of the exilic period in both Israel and Babylon.

Judea and the Greeks in the Intertestamental Period

This seminar will address the period from 400 BCE to 60 BCE and life in Judea during the rise and fall of the Greek Empire. It will include the tetrarchy, the Maccabean Wars and the Hasmonean dynasty and the development of Judaism.

Judea and the Diaspora in the Apostolic Period Under the Roman Empire

The final session in the series of the history of the Biblical Era will address the period from 60 BCE to 75 CE and the conquest of Judea by the Romans. Subsequent activity during the Pax Romana until the destruction of the Jerusalem temple and the siege of Masada. The Jewish diaspora and the rise and spread of Christianity into the Roman west will also be reviewed.

Personal Finance

Personal Money Management 101

Get in control of your money before it controls you. By learning the basics of personal finance you will build a foundation for financial stability. Topics will include understanding the emotions that make money management difficult, making sure your money reflects your values, how to set and achieve financial goals, how to budget and track expenses effectively, and how to navigate financial technology.

How To Improve My Credit

Credit can be a very useful tool but it can also be dangerous and misunderstood. Learn how the U.S. credit reporting and scoring system works, how to improve scores in a lasting and foundational way rather than using quick fixes, and finally, how to manage your debt and eliminate it.

Preparing For Retirement

Preparing for retirement is more than just contributing to your 401(k), it is developing savings as a personal habit, thinking about lifestyle and values, and understanding the tools that are available to you. We will discuss emergency savings, IRAs, Employer-sponsored Retirement Plans and more

Basic Technology

(Small Screen Basics) iPhone /iPad Fundamentals for Seniors

Could your computer skills use some sharpening? Learn the basics of Microsoft Word while navigating documents. Learn to enter and edit text, use bulleted lists, as well as create tables and boarders. Begin using functions such as shading, shapes, WordArt, and SmartArt. Set custom tabs, insert headers and footers, track changes and save your work in different file formats. Reinforce learning by creating and editing business documents, a resume, a party invitation, and more. This is a beginner level class that will help you with basic document preparation.

Introduction to MS Excel

Create dynamic spreadsheets with Microsoft Excel! This introductory class will teach you how to enter and edit data and format cells for text, numbers variations and dates. You will use AutoFill and perform simple worksheet calculations. You will be able to manipulate existing worksheets by rearranging data and managing multiple worksheets in one file. Students will be introduced to formulas and creating charts to compare data.
Contact Us
1010 West Sam Houston Parkway North, Houston, TX 77043