Unique partnership brings jazz improv summer camp to HCC Stafford
Feb 18, 2020
The sounds of jazz will fill the halls of HCC Stafford campus this summer at the F2F Jazz Improvisation Camp, a collaboration of Houston Community College (HCC) Southwest and the nonprofit F2F Music Foundation.
The jazz improvisation camp – the first of its kind in Fort Bend County, Texas – is geared toward middle and high school students who are intermediate-level musicians. The camp will run from July 13 – 31 at HCC Southwest Fine Arts Center, 9910 Cash Road in Stafford, Texas. The closing day will feature a student concert and a grand finale where they'll get to perform with the Vel Lewis Band and other professional jazz musicians.
The jazz camp is the brainchild of jazz musician-composer Vel Lewis, who started the music foundation as a way to teach young people about jazz and its various forms. Lewis has composed music scores for TV shows and toured with vocalist Dionne Warwick and other artists in a career that has spanned five decades.
The seed for F2F Music Foundation was planted in 2017 when Lewis joined forces with the Edison Arts Foundation in Missouri City, Texas, to organize a concert with elementary school pupils in Fort Bend County.
"When the concert ended, three little girls – they are triplets who had played clarinet and flute – came up to me and asked, 'Mr. Lewis, do we have to give back these instruments?' That just broke my heart," said Lewis, 54. "I knew I had to do something to help these kids have their own instruments."
Lewis called on his friend Nellie Doty, a retired Houston Independent School District instructor, to help found the Instrument Fund Program to put musical instruments in the hands of young people. Building on the program's success, they formed F2F Music Foundation in 2018.
Madeline Burillo-Hopkins, Ed.D., president of HCC Southwest, said the new partnership is an example of the college's commitment to helping improve the community by creating innovative opportunities for education and cultural enrichment.
"This collaboration with F2F will provide musically inclined youths of our community two exciting weeks to immerse themselves in the rich tradition of jazz and experience music-making with top-notch jazz musicians," Burillo-Hopkins said.
Colleen Reilly, Ph.D., dean of HCC Visual and Performing Arts Center of Excellence, said the partnership with F2F is a good fit for HCC.
"I'm really excited about bringing students who are passionate about music to our college," she said. "HCC has a strong music program, and our graduates transfer to highly competitive four-year institutions. There is also a vibrant jazz scene in Houston and it is important for our programs to be connected to the community. "
By focusing on the medium of jazz, the students will expand their musical horizons, Reilly said.
"Jazz is universal," she said. "The students will be focusing on improvisation and applying a lot of conventional, traditional and classical musical training. This is really an important stage of their development as musicians because it not only deals with arrangement and composition but also authorship and ownership of the music."
To register for the camp, visit f2fmusicfoundation.org/jazz-improvisation-camp, email info@f2fmusicfoundation.org, or call 2814045529.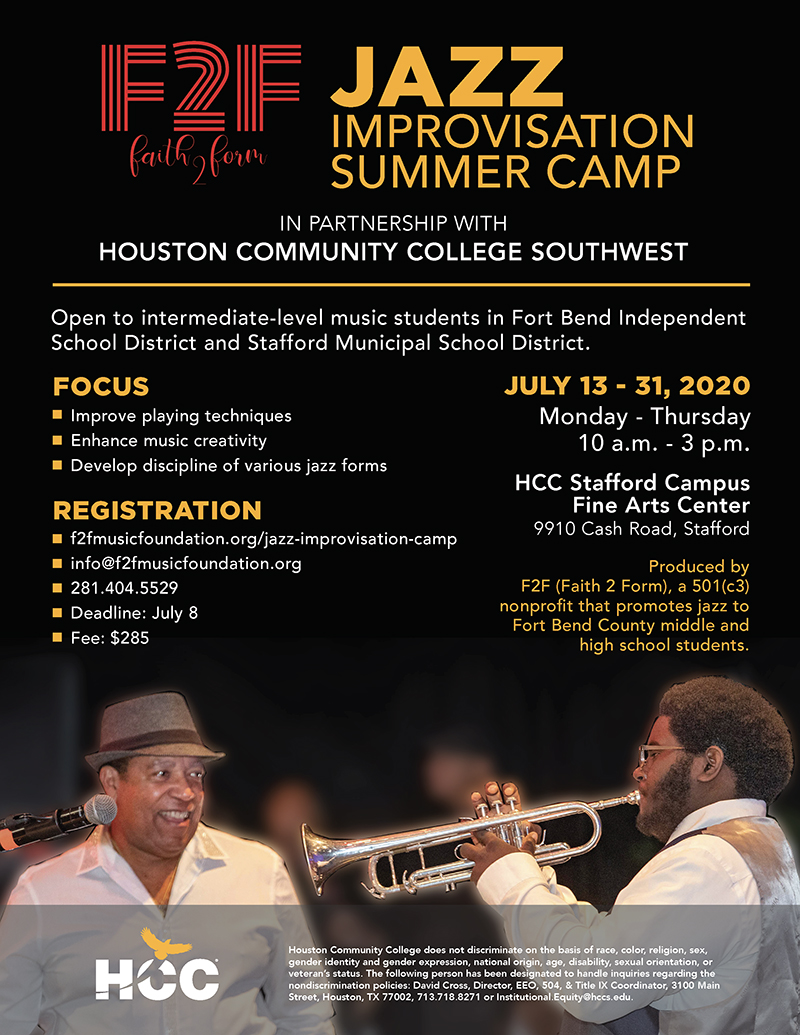 « Previous Article

| Next Article »