New virtual reality lab to launch Dec. 5 at HCC Southwest
Nov 25, 2019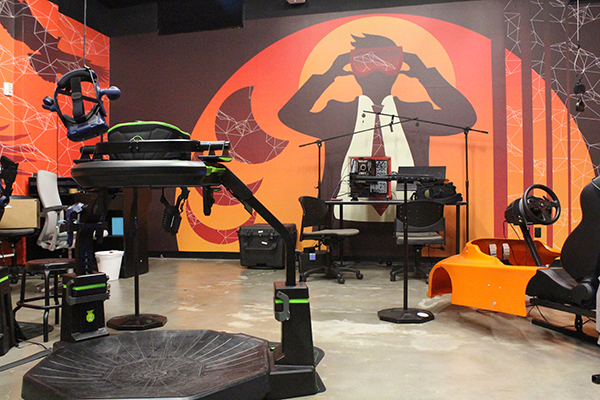 The world of virtual reality is about to become reality with the grand opening of a new VR lab at Houston Community College's West Loop Campus, 5601 West Loop S. slated for Dec. 5.
The $175,000 facility is a collaboration between HCC Southwest and MACE Virtual Labs, a Houston-based IT firm that provides Extended Reality (XR) hardware and software nationwide.
The six-month project has converted the college's former motion-capture lab into a virtual reality center, complete with VR station rooms, flat-screen monitors, Teslasuits, VR headsets and motion-activated car driving simulators.
"This is the equipment of the future," said Josh Bankston, a partner at MACE Virtual Labs. "The VR technology is what companies will expect students coming out of college to have experience with."
The VR lab provides a research and testing ground for faculty as well as students aspiring to become gaming programmers and artists.
"We're on the cusp of another IT revolution – the VR revolution," said Samir Saber, networking division chair at HCC Digital and Information Technology Center of Excellence headquartered at HCC Southwest. "Many industries including oil and gas, cybersecurity and education are looking at VR to save money and to simulate and train in a much more efficient manner."
Bankston agreed, noting virtual reality provides a cost-effective way to train employees who work in hazardous environments such as oil and gas refineries.
The Teslasuit featured at the HCC VR lab is an example of a training tool that removes the trainee from what would have been a dangerous and costly scenario.
"It is a full haptic-feedback suit that allows the participant to feel like he's part of the experience," Bankston said. "The suit allows wearers to feel heat sensation as well as resistance because it interfaces with their muscle groups."
Also, the Varjo VR-1 headsets in the HCC VR lab track the wearer's eye movements, allowing corporate safety trainers to fine-tune their company's safety procedures.
"This partnership allows us to obtain the much sought-after, state-of-the-art equipment that would have been hard to acquire without MACE's help," said Sean Otmishi, dean of the HCC Digital and Information Technology Center of Excellence.
« Previous Article
Next Article »
---