HCC Stands for Equality and Tolerance
Jun 2, 2020
Dear HCC Family,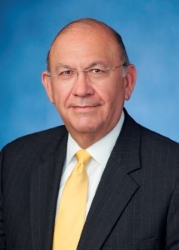 It is with a very heavy heart that I find myself addressing our community regarding the senseless actions we have all witnessed across our nation this last week.
We grieve the loss of life of a fellow Houstonian, George Floyd. His death, as we all have seen on video, was unquestionably tragic. I know the entire Houston Community College (HCC) community, our Board of Trustees, the Executive Council, our faculty, staff, and students, join me in sending our sincere condolences to his family and friends.
Equality and tolerance are the foundation of our collective success, and these precepts guide our work at HCC. We recognize our obligation as an institution, and as individuals, to battle inequality, intolerance, and racism. Each day, we have an opportunity to move toward putting an end to any inequality and intolerance that serve only to promote division and weaken our communities.
Here at HCC, we promote opportunity through access, equity, and education. I am committed to ensuring that anyone who steps on an HCC campus feels welcome, all members of our faculty and staff feel supported and heard, and all of our students feel safe and sustained by a College whose mission is to help raise them up.
Our student body is the most diverse in the country, and we offer degrees to more minority populations than any college in America. We take seriously our responsibility to lead our community in furthering equality and respect for all who call Houston home.
Mr. Floyd's death has impacted and influenced our nation. In the wake of this national tragedy, we have watched thousands of individuals take to the streets of our cities in peaceful assembly to protest racism and social injustice, and to honor Mr. Floyd's life; many protestors locking arms or walking shoulder to shoulder with police officers in their communities.
Embracing peaceful assembly, not destruction and desecration, inspires positive change. We all have something to contribute. We must learn from this moment. We must seize this opportunity to be mindful of the world around us; to be the leaders who drive a cultural shift – a change through compassion, selflessness, and tolerance.
I hope in the days and weeks to come, you will keep in mind these words from Dr. Martin Luther King, Jr., "Injustice anywhere is a threat to justice everywhere."
Sincerely,

Cesar Maldonado, Ph.D., P.E.
Chancellor




« Previous Article

| Next Article »