HCC Northeast partners with MADD for awareness walk
May 20, 2019
HCC Northeast partnered with Harris County Constables Office Precinct 1 and Mothers Against Drunk Driving (MADD) to serve as the host location for the Houston First Responder Muster & Walk Like MADD 5K event on Saturday, May 18 at the Northeast Campus. The event exposed more than 600 people to the Northeast Campus as the group raised awareness and funds to end drunk driving and fight drugged driving. Participants and agencies had an opportunity to experience the state-of-the-art facilities used to produce highly-trained first responders.
HCC Northeast was highly-engaged in the event. The HCC Public Safety Center of Excellence formed a walking team which took home top honors for best school team. In addition, the program was showcased with a fire truck and ambulance display, an information booth hosted by HCC fire cadets and fire demonstrations for the public. Center of Excellence Deans, faculty and staff from HCC participated in the walk and were also on hand to assist the group as they navigated the campus.
The opening ceremonies, hosted by KPRC traffic reporter Jennifer Reyna, featured stories from those affected by drunk and drugged driving as well as greetings from HCC Northeast President Dr. Monique Umphrey. "We're extremely excited and thankful to be able to host this important event. I can't think of a more worthy cause for our time. I have a personal story. It has impacted my family. I walk solidarity with everyone here today," said Dr. Umphrey.
The event was huge success, raising more than $65,000, the most money in the history of the walk. It also attracted walkers from across the metro area including many first responder partners, which Northeast College has longstanding partnerships with.
Northeast College values the opportunity for partnerships that make a positive impact in the community and expose the tremendously important work that takes place at the college. For more information about Northeast College programs, visit hccs.edu.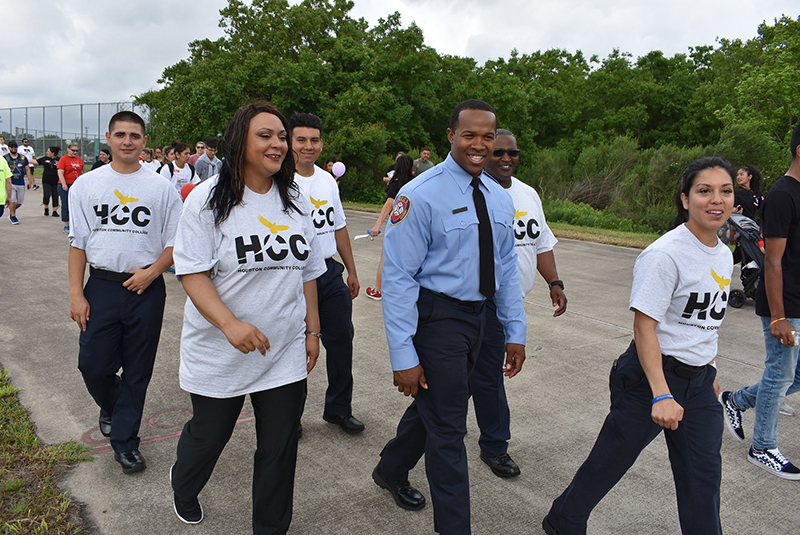 See more photos from the event.




« Previous Article

| Next Article »
---