Articles
HCC Northeast College president hosts 'Conversation' with the community
Oct 1, 2019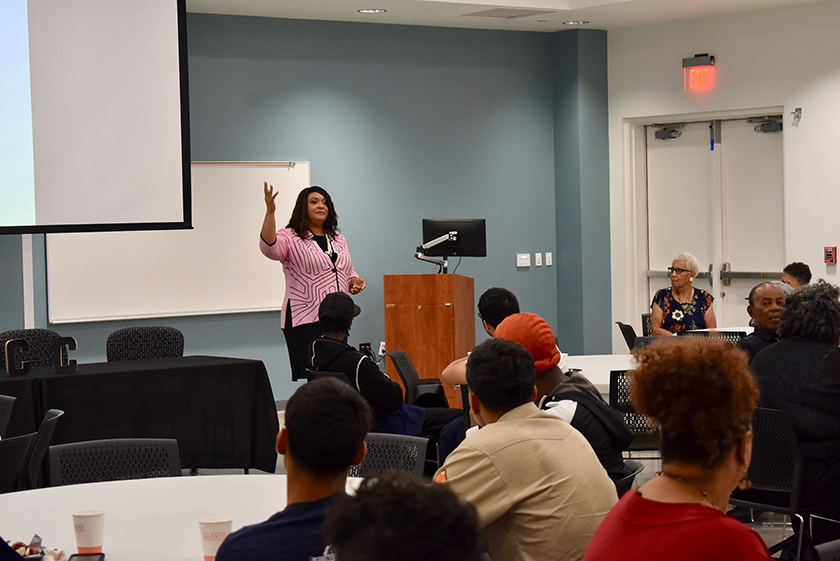 Houston Community College (HCC) Northeast President Dr. Monique Umphrey hosted "Conversation with the HCC Northeast President" at the North Forest Campus where she engaged the community.
City of Houston Super Neighborhood presidents, former North Forest ISD board members, area residents, as well as automotive, welding and academic students filled the room as Dr. Umphrey dialogued about the new facilities, trends in workforce and technology, and her background and experience.
Over coffee and pastries, the conversation centered on Dr. Umphrey's desire to bring more cutting edge programs to the college that will continue to support the transformation of the community it serves. "North Forest Campus can be a beacon on the hill . . . for other people to see, that's how you do it right," says Dr. Umphrey.
Dr. Umphrey expressed her passion of connecting communities to opportunities designed to address the growing demand for a technological savvy workforce. She also spoke about the importance of emotional intelligence and how these skills can make one more marketable to employers.
"What you bring to the table in any career setting and in life is your humanity. Creativity, innovation and compassion, all of those things that make you human are the things that bring value to the workplace," says Dr. Umphrey.
Community members praised HCC Northeast for making strides in the North Forest community with the expansion of the campus, new programs and courses that are now available to residents.
Steve Gibson, a member of the Houston Gardens Civic Club shared how he had to commute from North Forest to Alief to take welding classes at HCC a few years ago. "The ability to be able to walk or drive within 15 minutes of my home to take welding is awesome. HCC is the most affordable and a place where you can get what you need with little to no debt," says Gibson.
Pleased to hear the enrollment had increased by 71 percent since the North Forest campus ribbon-cutting ceremony held on August 6, several community leaders renewed their support in partnering with the college to ensure that the campus continues to grow. "We are so proud of this, what we have seen, and we know that with our pulling together and the strength of God, we can reach far beyond this building," says, Geanette Smith a resident of Northwood Manor.
The HCC North Forest Campus offers academic, adult education and workforce training and is home to the new Automotive Center of Excellence. For more information about North Forest programs, call 713-718-5868 or visit hccs.edu/northforestcampus.
« Previous Article | Next Article »
---