HCC employee receives Biden Presidential Lifetime Achievement Award
Dec 17, 2021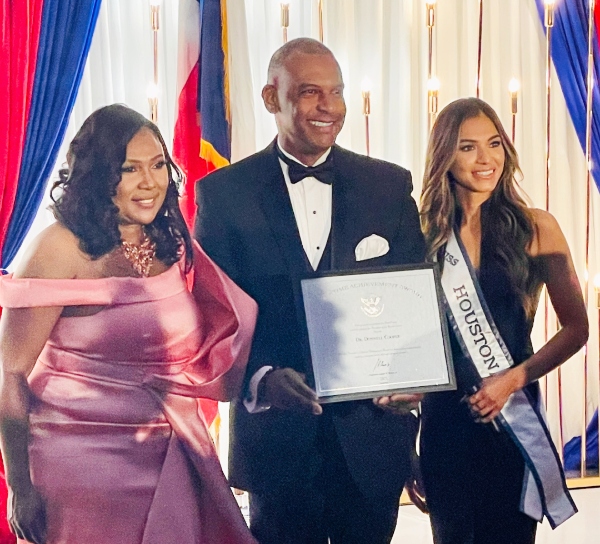 For Houston Community College Acres Homes campus manager and adjunct professor Donnell Cooper, countless hours of volunteerism and service in the community over 15 years have been recognized with a Presidential Lifetime Achievement Award.
Founded by the U.S. President's Council on Service and Civic Participation, the award honors individuals with more than 4,000 volunteer hours and whose service positively impacts communities across the nation.
In addition to Cooper's commitment to HCC students, he is equally committed to creating access to higher education. He serves as president for The Greater Houston Frontiers Club, a national nonprofit organization that has provided more than $2 million in local scholarships to students in Harris County. He is also known for his exceptional fundraising and community partnerships, and he has played an instrumental role in growing HCC scholarships through the college's Black History Committee.
Cooper knows the importance of higher education in underserved communities. For this reason, he is often found engaging the Acres Homes community through campus partnerships that provide resources and information on how HCC can serve as a conduit to success.
The avid volunteer is also an author and motivational speaker who gives back by conducting youth workshops that encourage social skills and etiquette as an empowerment tool that can bring their goals, dreams and aspirations. He is also a member of the Kappa Alpha Psi Fraternity, Southern University - Houston Alumni and the Sam Houston Area Council Boy Scouts of America.
"This award is priceless to me as a community servant," Cooper said. "What I gain from the long hours and commitment to service is the opportunity to pay it forward."
Cooper was presented the award at a ceremony last month, receiving a medallion, certificate and congratulatory letter signed by President Joe Biden.
« Previous Article
Next Article »
---