HCC alumna on a journey to empower women to find careers in IT
Nov 25, 2019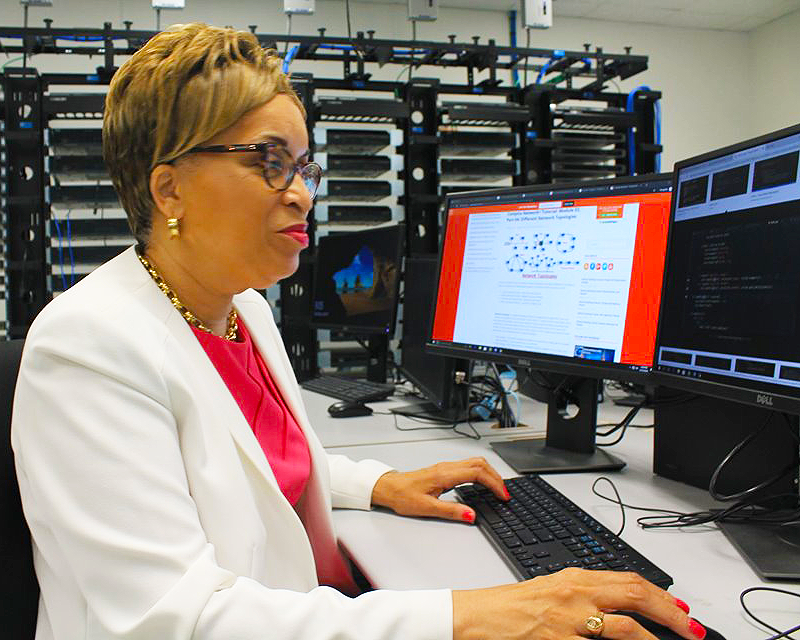 Over the past 40 years, HCC alumna Marylyn Harris has built a successful career in nursing and pharmaceutical sales.
Today, she's refocusing her energy to follow her calling in information technology. Harris is studying cybersecurity with the goal of helping other women find careers in IT through her nonprofit Women Veterans Business Center. Her son, Jamaar, 24, and daughter, Amaara, 21, are co-founders of the nonprofit.
Harris is studying Intrusion Detection and Unix Operating System classes at HCC Southwest, with plans to become CompTIA Security+ and CompTIA Cloud+ certified this year. Her goal is to become an (ISC)2 HealthCare Information Security and Privacy Practitioner (HCISPP).
Harris' career has taken her around the globe. She served in the Gulf War (1990-91), where she treated wounded warriors and prisoners of war. She returned stateside to earn an RN degree from Prairie View College of Nursing and landed a job as a registered nurse at MD Anderson.
Harris later attended UT Health School of Nursing where she earned a master's degree in nursing in 1997 and later worked as a pharmaceutical sales rep in Austin. In 2014 she was selected as a Distinguished Alumni at the UT Health School of Nursing.
Today, Harris is laser-focused on helping women veterans like herself to pursue IT careers. Working with Microsoft, the Women Veterans Business Center is offering free monthly educational sessions at the Microsoft Store at 5085 Westheimer in The Galleria. For more details, call 832-230-6454.
"I see a tremendous opportunity to help people start businesses, especially in technology and specifically in cybersecurity for women," Harris said. "We have over 30,000 women in the Houston area who have served in the military and no one was looking out for their economic sustainability. A career in technology can improve their quality of life."
Harris is uniquely qualified to help women navigate into careers in IT and business, said Samir Saber, networking division chair at HCC Southwest.
"Marilyn is doing what a lot of other students are doing who come from different industries," he said. "They want new skills and they understand the vital role that cybersecurity plays in their industries."
"Marilyn brings a lot of value because she knows the healthcare system and how medical devices are outdated and insecure, so she will be able to make a difference."
« Previous Article
Next Article »
---