Articles
Former student pays it forward to HCC
Mar 8, 2016
Former Houston Community College (HCC) student Travis Speck has his finger on the pulse of the Houston IT industry.
After graduating with his bachelor's degree, Speck landed his first job as an IT Recruiter for Computer Futures. Speck splits his day between meetings with clients to develop accounts for current and future businesses to sourcing dozens of resumes to place the right candidate to the role. With his specialized skill set, he's now in a position to give back to the college that launched his career and he's tackling it with passion.
Speck recently signed on as a member of the HCC Digital and Information Technology Center of Excellence (COE-DIT) Advisory Board. He's excited to share his knowledge and dedicate his time to helping current HCC students, whether it's speaking to a class, giving advice on what companies are looking for in employees, or consulting with them on what classes they need to invest their time. His main focus will be assisting the COE-DIT with its new Cybersecurity program. The goal - to help HCC build strategic relationships with IT companies, to establish a curriculum designed to train skilled workers, and produce hireable graduates.
During his time at HCC, Speck developed many skills that are critical to his job today. He credits the small class sizes at HCC for refining his networking skills.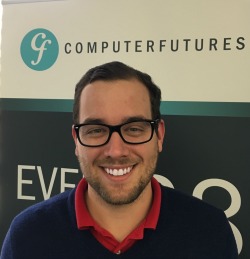 "Having 30 students in a class is better than 300 students. It gave me the opportunity to really build relationships with my fellow students and my professors," Speck said. "I used the small class size to my advantage and honed my networking skills. It became a great training ground for me."

Speck also credits HCC classes for fine-tuning his time management skills. He learned a new method to help him meet deadlines by using the class syllabus to organize his study time, keep on track with assignments, and manage future projects. He knows the organizational skill learned at HCC is the reason for his success.

Speck hopes other students will consider HCC as a college of first choice and take advantage of what it has to offer, just like he did. He wants to help COE-DIT students by offering his recruiting and IT expertise so they can land their dream jobs.




« Previous Article

| Next Article »
---