Neeta Sane
Neeta Sane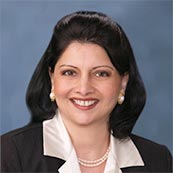 In 2007, Neeta Sane was elected to serve on the Board of Trustees of Houston Community College. In 2013, she was re-elected to serve a second six-year term on the HCC Board and in 2014, she was elected to serve as the Board Chair. During her 10-year tenure, she has served on several Board committees and twice serving as the Vice-Chair and Secretary.
Trustee Sane is a business owner of a consulting firm, community leader, wife, and mother who brings to the HCC Board a unique blend of innovative entrepreneurship, educational background, and fervor to develop programs that enhance student success at HCC, serving the community with universal values.
As a strong advocate of workforce training programs, she has been instrumental in the expansion of HCC's educational and workforce training programs in Advanced Manufacturing, Health Sciences, Engineering, Entrepreneurship and Vocational Training in Fort Bend and Alief. She has hosted workforce summits in Southwest Houston, a youth leadership summit for Early College High School students and Rising Leaders Academy conference for the HCC Honors College. She provided Workforce Support Scholarships for HCC students through the HCC Foundation. With a dedication to being inclusive of all students, she established the HCC Trustee Neeta Sane ASPIRE scholarship endowment fund, which supports the educational pursuits of students. HCC-ASPIRE raises funds to support the educational pursuits and scholastic achievements of students attending HCC, as well as HCC's outstanding faculty and staff.
Trustee Sane graduated from the University of Houston-Clear Lake with a Master of Science degree and also earned an MBA in Finance from the Florida Institute of Technology.
Trustee Sane is deeply committed to community service. In addition to her dedicated service on the HCC Board, she is involved in numerous organizations across the state that advocate for education, families and underserved populations.
Trustee Sane grew up in India with tremendous respect for the United States. Since coming to this country, she has immersed herself in community service in an effort to give back some of the blessings and opportunities that she has been afforded. She is deeply committed to public service and community involvement.
Trustee Sane's recognitions include the following:
2019 Association of Community College Trustees (ACCT) - Public Policy and Advocacy Committee Member

2019 SuperLady Award from SuperLady Live Movement
Honorary Co-Chair - d-mars Top 30 Influential Women of Houston (2018)
Member - Community Advisory Council, Westbury High School (2018)
Board member - Asian Pacific American Heritage Association (2018, 2019)
Board Member - Alief Family YMCA (2018, 2019)
Advisory Board Member - Indian Muslim Association of Greater Houston (2018)
Founder - Youth Advisory Panel, HCC District VII
Founder- HCC-ASPIRE Scholarship Program
Member- NAACP-Missouri City Planning Committee, Freedom Fund Banquet (2017)
Founder - Women's Voice for Better America/The Women's Voice (2016)

Multicultural Leadership Award from Texas Diversity Council (2015)

Recognition as Top 50 Influential Women of Houston 2014 from Houston Woman Magazine

Resolution/Recognition from Texas State Senate in recognition of leadership (2014)

Recognition as Top 30 Influential Women of Houston 2014 from d-mars.com

Co-chair - Diversity & Inclusion Summit (2014)

Greater Houston Service Award from Volunteer Houston (2013)

Certificate of Special Congressional Recognition from Congressman Al Green (2013)

Certificate of Recognition from Harris County Judge Ed Emmett (2013)

Luminary Ambassador Award from Asian American Family Services (2013)

Apex Award - Education from Caribbean Chamber of Commerce (2013)

Honorary Co-Chair - 2013 Citizenship Month (Initiative by Mayor, City of Houston)

President - HCC-ASPIRE

www.hccs.edu/aspire

Leadership Award from Asia Houston Network (2012)

Resolution/Recognition from State of Texas House of Representatives for Service to HCC & Community (2011)

Minority Achievers Award from YMCA (2010)

Community Entrepreneur of the Year Award from the Asian Chamber of Commerce (2010)

DiversityFirst Award from Texas Diversity Council (2009)

Honorary Member - Asian American Engineers and Architects, Houston
Member - National Honor Society of Phi Kappa Phi
Past Board Member - Missouri City TIRZ #3
Past Member - US India Skills & Education Council

Past Advisory Member- World Chamber of Commerce of Texas

Past Board Member - Alief Super Neighborhood Council #25

Past Board member - Fort Bend YMCA

Founder & Past President - International Festival of Fort Bend County (2007)
Trustee Sane has also participated in the following organizations:
APINATA Trustees National Organization, ACCT

Community College Association of Texas Trustees (CCATT)

Diversity Committee of Association of Community College Trustees

Rotary Club of Fort Bend County

Missouri City Bond Exploratory Committee

Stafford Municipal School District - Vision and Planning - College and Career Readiness

Alief Community Association

Alief Family YMCA - 2013 Partners Campaign

National Diversity Council

American Association of University Women, Fort Bend

Democratic Party of Fort Bend County

Diverse Alief Democrats

Texas Democratic Women of Fort Bend County

League of Women Voters

Airbag Recall: Houston
Trustee Sane is strongly committed to "Student Success." She continues to stay focused on ensuring educational access and success of HCC students while serving the community. She is also committed to establishing stronger business partnerships for a mutually-beneficial educational and workforce environment. Trustee Sane is actively involved in establishing policies that support diversity awareness at HCC, where students and employees from all backgrounds, ethnicities and genders are recognized and respected.
Trustee Sane strongly believes that educational attainment is imperative for all members of the community to succeed and reach their fullest potential in life. Her vision and desire is to ensure educational opportunities for all through Houston Community College. She continues to promote and advocate community college education to ensure a stronger and well-educated workforce as the economy continues to move into globalization.
News
---
During an inspiring, yet frank, address to legislators, industries, educators and community partners, Houston Community College (HCC) Chancellor Cesar Maldonado, Ph.D., P.E., said the college, like the city, has many opportunities to thrive and grow, but only if it recognizes where those exist.
On Friday, March 22, United States District Judge Kenneth Hoyt dismissed a lawsuit filed against HCC by Trustee Dave Wilson in which Wilson requested money damages for alleged violations of his First and Fourteenth Amendment rights.
Spring 2019 Newsletter from Trustee Neeta Sane
Winter 2018 Newsletter from Trustee Neeta Sane
I need to bring to your attention an urgent matter – the on-going Airbag Recall. It is the largest and most complex recall in U.S. history.