Top News
HCC IDEAS Pitch competition winners announced
By Office of Entrepreneurial Initiatives
Nov 18, 2016
In July 2016, the Office of Entrepreneurial Initiatives developed three Mini Tech Faires that evolved into a unique opportunity to showcase HCC and the Ideas Competition at the November 12-13, Houston Maker Faire.
1st Mini Tech Faire – Saturday 10/22– SE College-Fraga Campus
Highlights: Logistics, Material Sciences, SE Upward Bound and Early College students
Dr. Irene Porcarcello, Dr. Tam Le and Dr. Cynthia Garza hosted the event with 100 students, including from Upward Bound and SOAR Science Club students. Special thanks to Mr. Samuel Saenz, Sandra Lebron, Dr. Tam Le and Cynthia Garza. Local makers; Pronto Makerspace, SOAR Science Club, Schlumberger SEED program, TiE Houston, and Innovation Spark attended.
2nd Mini Tech Faire – Saturday 10/29 – Alief Hayes Campus
Highlights: Engineering and Design Lab & HCC Honors NW
HCC Honors College students and CCI International exchange students used Social Media to promote this event; 80 students participated. Special thanks to Dr. Butch Herod, Jordan Carswell, Raymond and Diana Brown & Susan Thompson. Local makers: Drone Racing worldwide, Makr U bus, Harris County Public Library, Innovation Spark, Schlumberger SEED, Engineers without Borders participated.
3rd Mini Tech Faire – Friday 11/4 – West Loop Campus
Highlights: Advanced Manufacturing & Digital Gaming, IDEAS students showcase
HCC IDEAS Pitch Contestants and volunteers showcased their ideas; 90 attendees participated.
Special thanks to Roland Fields and Reni Abraham. Local makers: Innovation Spark, Cosine, PicoWear, Schlumberger SEED, and SOAR Science club joined along with Volunteers from Honor College and international students from the Community College Initiative.
Funding raised to support the Houston Maker Faire with special thanks to:
Dr. Maya Durnovo, sponsored Ravi Brahmbhatt.
Dr. Irene Porcarello, sponsored Dr. Tam Le and Dr. Cynthia Garza.
Dr. Madeline Burillo sponsored Dr. Doug Rowlett and Dr. Fredrick Heard.
Dr. Zach Hodges sponsored Dr. Jimmy Adams, Dr. John Vasselli, Jordan Carswell, Susan Thompson & Dr. Butch Herod.
$10,000 was raised to secure the Title signature sponsorship at the Houston Maker Faire. The Maker Fairs also hosted the HCC IDEAS Pitch Competition. Twenty-five "Ideas" were presented to judges John Reale from Station Houston & TiE Houston, Jorge Claudio from Silver Fox Advisors, and Raymond Brown from Houston Community College. Awards were presented on Sunday by Dr. Maya Durnovo and Ravi Brahmbhatt from HCC and Mike Hinkle and David Brunet from Innovation Spark, Houston Maker Faire organizers.
---
HCC-IDEAS Competition Results:
Over 40+ Students from University of Houston, Houston Community College and three area high schools participated in the IDEAS Pitch Competition. Awards were presented to the top three contestants. Congratulations to the winners and all who took part in the programs.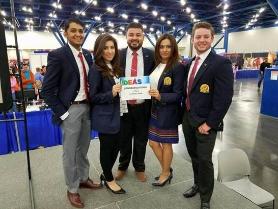 1st Place: $1,500
Group Name: Vecense
Group Members: Rishabh Jain (HCC Alumni), Arsheen Memon (HCC Alumni), Kiran Meghani, Bryan Martinez, & Emmit Schultz
School: University of Houston
. IDEAS Description: Our hydrophobic coating repels water and contaminants by reducing building up on solar panel surfaces, therefore increasing the efficiency of solar energy production.
‌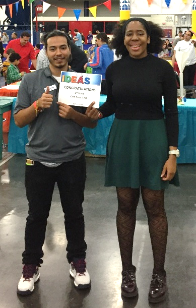 2nd Place: $750
Name: Nathalie Meremikwu
School: Houston Community College
. IDEAS Description: SMARTroom is a system of computational problem solving experiences that center on teaching children how to automate their everyday lives. SMART room is our proposed addition to the movement to teach children how to think like programmers.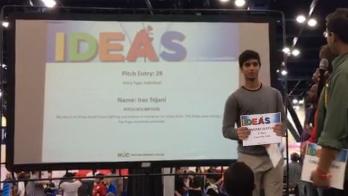 3rd Place: $250
Name: Iraz Tejani
School: Kempner High School. 
IDEAS Description: My idea is to bring simple home lighting automation to everyone for a low price. This helps save energy and has huge economic potential.
All participants will receive
Assistance in the Development of a Business Plan (Provided by Houston Community College)
Access to Idea Validation Lab Training (Provided by Good Works Houston)
One on One VC Guidance and Consultation (Provided by TiE Houston, Greater Houston Partnership, Schlumberger, Good Works Houston and Silver Fox Advisors)
Invitation to tour the new Station Houston co-working space in downtown
Special Invitation to tour Schlumberger-Sugar Land Campus
Special access to up to $10,000 of Seed funding from Bayou Microfund
Small promotional items from Schlumberger and CenterPoint
Over 7,000 attended the Houston Maker Faire over Saturday and Sunday, with over 150 exhibitors showcasing cool innovations and promoting science, technology, engineering, arts, and math!

To learn more about the competition, see: www.hccs.edu/pitch




« Previous Article

| Next Article »
---