HCC Southwest College collects diapers for charity
Mar 10, 2017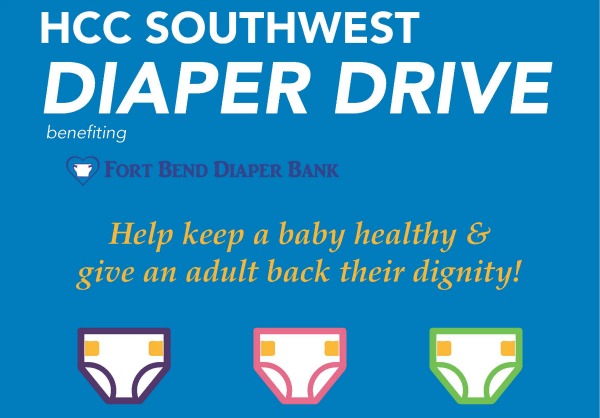 Disposable diapers for one baby cost more than $100 per month. Despite their critical need, diapers for children and the elderly can't be purchased through Women Infants Children (WIC), Supplemental Nutritional Assistance Program (SNAP) or other government programs. This leaves many families struggling to keep their babies and elders clean, dry and healthy.
Realizing this is a crucial need for both students and the community, Houston Community College (HCC) Southwest College is hosting a Diaper Drive benefitting the Fort Bend Diaper Bank.
Donations of baby diapers, as well as adult diapers/pads, will be accepted through Tuesday, April 4. All donations will be presented to the Fort Bend Diaper Bank during the spring "YeeHaw" Fling Festival Thursday, April 6.
"Some of our students have babies or elders who need these items, but can't afford to pay for them." said HCC West Loop Campus Operations Manager Mark Lambert. "HCC wants to be a pillar in the community by raising awareness about the need for diapers and taking action by donating diapers to help keep our community members healthy."
HCC faculty, staff, students and the community are encouraged to donate new, unopened diaper packages. Collection bins are located near the front desk at each of the following HCC Southwest College locations:
West Loop Campus

Brays Oaks Center

Gulfton Center

Stafford Campus Learning Hub Building

Stafford Campus Scarcella Building
"When you can't afford to supply diapers, children miss early educational opportunities and parents drop out of school and/or miss work essentially undermining their own earning potential," said Fort Bend Diaper Bank Executive Director Laura Solyom. "Adults and seniors with incontinence issues become shut-ins and are essentially cut off from everyday contact and activities."

If you need help with diapers or incontinence supplies CALL "211" Texas for assistance. They will be able to direct you to the food pantry or diaper bank nearest you.




« Previous Article

| Next Article »
---