HCC receives prestigious accreditation in culinary arts
Feb 14, 2017
Walking into the spacious, well-organized industrial kitchen that serves as a classroom for Culinary Arts Program students at Houston Community College (HCC), one can immediately perceive the scrumptious smells of foods being prepared, pastries being baked and creations being imagined.
The dedication of the HCC program leaders—Chef Eddy VanDamme and Chef Christy Sykes—and faculty members of the Culinary Arts Program continues to yield achievements. For the first time, the American Culinary Federation Education Foundation (ACFEF) awarded a certificate of accreditation to the HCC Culinary Arts Program, as well as the Baking and Pastry Arts Program.
"The ACFEF accreditation is an important designation not only for the institution, but for the students we serve. Only one of eight community colleges possesses such a distinction," said Dr. Anthony Hancock, Dean of HCC Consumer Arts and Sciences Center of Excellence.
To obtain the accreditation, leaders of the two programs gathered a large amount of documentation to show that the courses fulfill the highest culinary teaching standards in the production of innovative cuisine. One of those leaders was program manager Rizalinn Grace Virata.
"I feel very fortunate to be part of a very supportive team," Virata said. "Everyone has been so cooperative in providing our team with the support needed to bring the program up to the standard it needs to be to receive accreditation."
For Chef Eddy Van Damme, faculty member of both programs, this accreditation tells the story of course of study that has taught students for years how to work as a team under pressure, doing several tasks at once and enforcing cleanliness with the highest level of professionalism.
"Any aspiring chef comes to HCC knowing that our program is accredited to the highest standards in the industry," said Van Damme.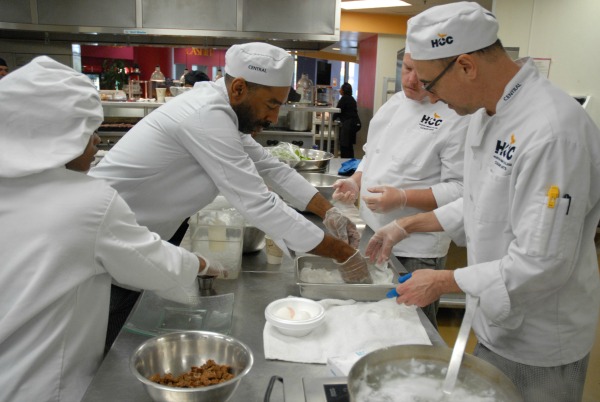 For more information about Culinary arts and Baking and Pastry Arts program at HCC, visit: www.hccs.edu/culinaryarts




« Previous Article

| Next Article »
---