HCC graduate and chef Hugo Ortega wins prestigious James Beard Award
May 2, 2017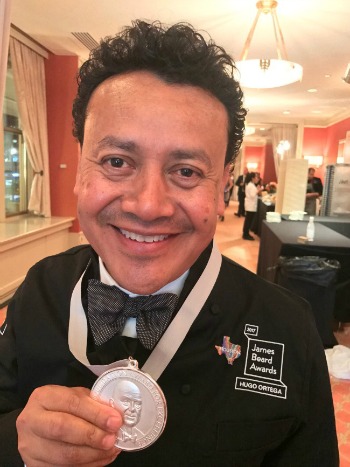 "He did not stand on the sidelines. He took the bull by the horns and started working every time he had a task." That is how Chef Eddy Van Damme, a faculty member of the Culinary Arts Program at Houston Community College (HCC) remembers a young student by the name of Hugo Ortega.
Ortega, who just received the prestigious James Beard Foundation Award for Best Chef: Southwest, started his culinary education at HCC in the early 1990's without imagining that one day he and his wife, Tracy Vaught, would own a small restaurant empire in the Houston area and receive numerous awards.
"It is a great honor to be recognized by and among the top talents in the culinary world," says Ortega. "I am so very grateful and accept this award on behalf of not just myself but my entire restaurant family, my loyal customers and the great city of Houston."
According to HCC Chancellor Dr. Cesar Maldonado, outstanding stories like Ortega's are a testament to how far HCC graduates can go. "Hugo represents our values at HCC," Dr. Maldonado said. "He's dedicated, a hard worker, displays performance excellence, but most of all he's a shining example of student success. He may have graduated a couple of decades ago but he still makes us proud!"
For Ortega, receiving this particular distinction is extra special since he has been nominated for the past six years. The award is also an opportunity for Ortega to recognize other restaurant workers who live the immigrant experience.
"I accept this award in honor of all the hardworking men and women across the country who spend long hours on their feet working to serve others, working to make a name for themselves and to create a better life for themselves and their families. This is the newest page in my American Dream story," said Ortega who now owns several restaurants in Houston including Backstreet Café, Hugo's, Caracol and Xochi.
Chef Van Damme, who witnessed Ortega's growth as a college student, is not surprised by his achievements. "For Hugo, preparing food was second nature," Van Damme recalled. "But far from his extraordinary talent, he had a genuine desire to see those around him succeed. His personality is one of a kind."
The James Beard Foundation Awards in the culinary world are the equivalent to the Academy Awards for the film industry. On May 8 at 7 p.m. HCC Central Auditorium will have a screening of a documentary "American Masters - James Beard: America's First Foodie."
Congrats to @ChefHugoOrtega! @HCCDistrict grad and winner of the 2017 @beardfoundation award! #HCCProud https://t.co/6WtA3Ulo5K

— Cesar Maldonado (@hccchan) May 2, 2017



« Previous Article

| Next Article »
---