HCC culinary arts instructor named Educator of the Year
Jun 30, 2016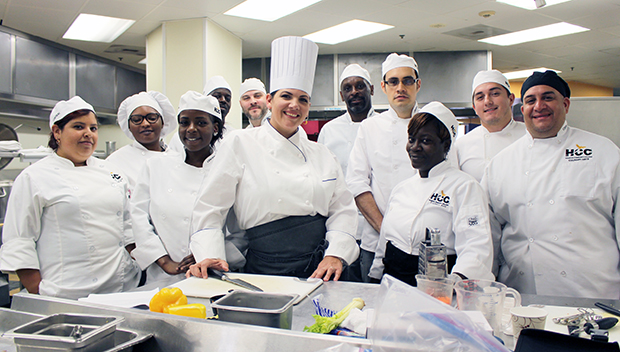 When Houston Community College (HCC) instructor Christy Sykes picks up her award for being the Houston Educator of the Year by the Texas Chefs Association (TCA), her family will barely bat an eye.
Sykes has been in love with cooking and food preparation since she was eight years old. Teaching culinary arts to eager students is exactly what her family and colleagues believe she was born to do.
"When I go home, I always ask my mom for a home-cooked meal," said the New York-born Sykes. "But she always tells me, 'I'm not cooking for you.' She and the rest of the family have always loved how I cook."
Sykes, an 11-year veteran instructor in the HCC Culinary Arts program, was selected by the Houston Chapter of the TCA because of her classroom teaching excellence and her willingness to promote the highest levels of professionalism in the culinary industry to her students.
"Christy represents Houston culinary arts educators well," said Sam Brewster, TCA Executive Administrator. "Now she will be among seven contestants who will be vying for the statewide title."
Anthony Ruiz, a student in Sykes' international cuisine class, agrees that Sykes is a top-notch instructor.
Ruiz said, "Chef Christy trains us to prepare for careers in the real world, which is good. She's very talented."
As a child in Syracuse, Sykes was in charge of making family meals for a family of five - her parents, her two siblings and herself. She thrived in this challenging role.
"It was therapeutic for me to cook," Sykes recalled. "I loved it."
She went on study culinary arts at Johnson & Wales University in Providence, RI. Eventually, Sykes graduated magna cum laude from the College of Culinary Arts in Providence in 1999 and moved to Texas, where she worked for various private country clubs in Plano, Sugar Land and Richmond.
Since her arrival at HCC in 2005, the married mother of two has taught nearly every culinary arts course on the menu: Basic Food Preparation to Saucier to Charcuterie. She is a strong and supportive coach to culinary arts students entering local, statewide and national competitions. This year, Sykes also received a Teaching Excellence Award at HCC.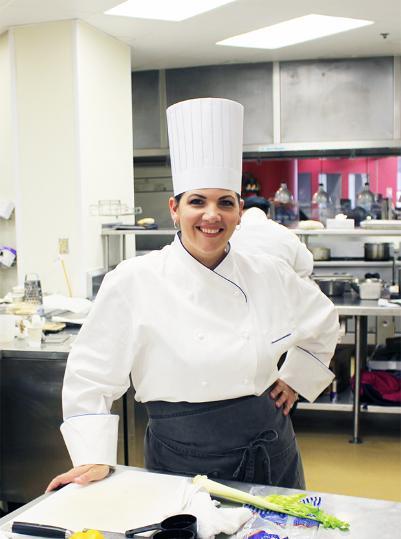 "My teaching philosophy is to bring the material to the (culinary arts) students in as many ways as possible so their creative minds can grasp the technical information," Sykes explained. "Really, it comes down to knowing the technical aspects and ratios (of food), such as knowing the environment in which something needs to be prepared to make it emulsify and not just mix."

The Culinary Arts program is just one of seven programs in the HCC Consumer Arts & Sciences Center of Excellence. The program has received national and international acclaim for its world-class teaching staff and well-prepared graduates.

For example, two students in Sykes' co-op class – Jesus Cabrera and Alfonso Canchola – recently were hired for apprenticeship positions by chef Hugo Ortega, the renowned Houston restaurateur and HCC culinary arts alumnus, for a new restaurant he is opening in Oaxaca, Mexico.

"We will continue to send out very quality students from our program," Sykes says proudly. "My goal is to continue making this program everything I know it can be. I don't see myself going anywhere. I love the rewards from teaching. This is where I see myself."

Sykes will receive her award at the Texas Chefs Association convention on August 7, which takes place aboard a working cruise for its 75 members and their guests to Cozumel, Mexico.

To learn more about the programs offered at the HCC Consumer Arts & Sciences Center of Excellence, visit hccs.edu/consumer-arts.




« Previous Article

| Next Article »
---