HCC's first bond networking event draws praise from Board of Trustees Chair, small business community
By HCC
Jan 29, 2014
Houston Community College (HCC) and Jacobs Program Management Co. (Jacobs) held their first Small Business Enterprise (SBE) networking event for HCC's $425 million Groundbreaker Bond Program. The event, which received widespread praise, brought together potential prime contractors and SBEs interested in working on the Bond Program that is slated to begin construction later this year.
Small business owners attending the event met with industry experts in areas such as bonding, financing, insurance, wage compliance, small business assistance, SBE certification and more.
HCC begins construction on its Groundbreaker Bond Program, a total of 14 projects across its six colleges, in 2014. This inaugural networking event officially kicked off HCC's small business engagement program, GameChanger, which has a goal of awarding 35 percent of bond construction work to SBEs.
"We have a 35 percent SBE goal for our Bond Program. That's a significant commitment to Houston's small business community," said HCC Board of Trustees Chair Neeta Sane. "This networking event marked a significant milestone in our Groundbreaker Bond Program. Attending SBEs were able to get an early jump into the process by meeting with potential construction project managers, as well as a variety of vendors who provided valuable information on what they need to compete for work in the Bond Program."
"This event highlights HCC's commitment to helping SBEs be part of the Groundbreaker Bond Program," said Ruben Mercado, Jr., business manager, Greater Houston Chapter, National Association of Minority Contractors (NAMC). "As a local chapter group charged with helping minority and women contractors gain business education and training in order to better compete in the marketplace, events like this are a critical piece of the network puzzle."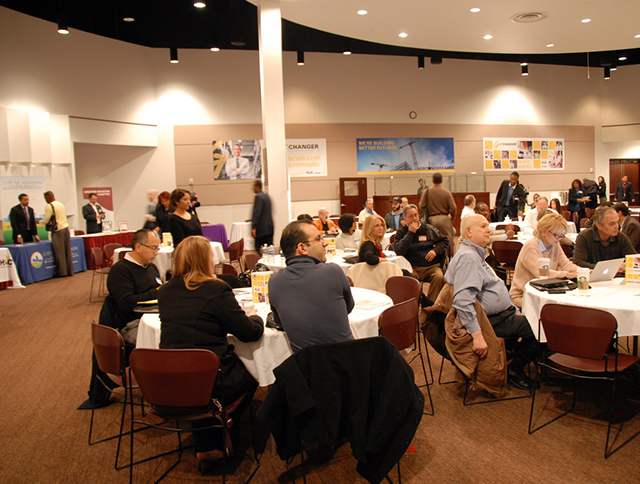 See more images from the event
Vendors at HCC's SBE networking event included:
Amegy Bank
City of Houston Office of Business Opportunity
Goldman Sachs 10,000 Small Businesses
Hispanic Chamber of Commerce
Houston Community College Procurement Office
Houston East End Chamber of Commerce
Houston Minority Business Development Agency Business Center
Houston Minority Supplier Development Council
Interfinancial Insurance Group
Iscential Insurance
Lone Star Community College Small Business Development Center
Medrano Insurance
National Association of Minority Contractors
Port of Houston Authority
Women Contractors Association
University of Houston Small Business Development Center/Procurement Technical Assistance Center
U.S. Small Business Administration
Groundbreaker Bond Program Update

The selection process is well underway for Groundbreaker's prime contractors, who will be responsible for the day-to-day construction oversight for all 14 projects. The designated prime contractors, acting as Construction Managers At Risk (CMARs), will be announced in February 2014, pending HCC Board of Trustees review of staff selection recommendations and approval.

To register to attend future events or learn more about HCC's Groundbreaker and GameChanger programs, visit http://www.hccs.edu/gamechanger.




« Previous Article

| Next Article »
---