HCC wins Excellence in Procurement award
Jul 11, 2014
Houston Community College is the 2014 winner of the National Association of Educational Procurement Award for Excellence. The NAEP Award of Excellence in Procurement is awarded to an institution on the basis of the procurement department's contribution to, and support of, the mission of their institution. HCC is the sole winner for institutions with more than 15,000 students.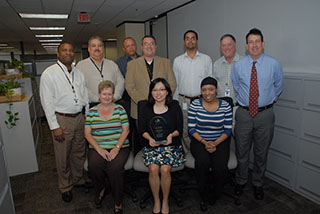 (front row, left to right) Pam Ferreira, Hua (Jennifer) Chiu,
Ashell Waller; (back row, left to right) Alfred Kessellie,
Freddy Conde, Kerry Doucette, Rogelio Anasagasti,
Dietrich Von Bidenfeld, Thomas Richardson, Christopher Burton
‌The HCC Procurement Operations Department continues to offer meaningful contributions to HCC's goals, cost savings and strategic growth. The honored project highlighted one of many efforts to maximize competition, deliver best value, and extend the reach of every dollar of public funds toward the advancement of HCC's mission. Over the past two years, the department has evolved professionally. The Procurement Operations Department staff has consistently improved working relationships with internal and external stakeholders. They have implemented mandatory certification to build aptitude and respect from other departments, and devoted more time to supply chain management and source selection toward cost saving measures. The department has also negotiated contracts for overall savings and protected HCC interests.
The awards were presented at a ceremony held at the Association's 93rd Annual Meeting in Lexington, Kentucky in May. The HCC was represented by Rogelio Anasagasti, Executive Director of Procurement Operations.
---
« Previous Article

| Next Article »