HCC Interior Design Students benefit from partnership with MD Anderson Cancer Center
May 31, 2017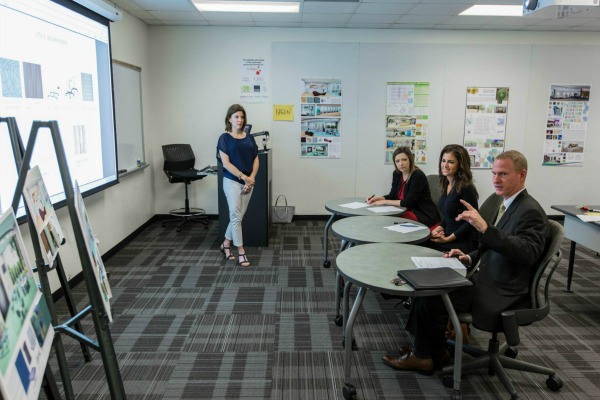 For students of the Interior Commercial Design Program at Houston Community College (HCC) their final class assignment consisted of a presentation in front of representatives from one of the world's most prestigious cancer treatment and research centers.
The talent, knowledge and hard work from the students was put to a unique challenge during the first educational partnership between MD Anderson and HCC. For their assignment, the students conceptualized and designed 25,000 square feet of the MD Anderson Nellie B. Connally Breast Center.
"The exploration in health care design was an unprecedented project within our interior design program," said Kevin Hamby, HCC lead faculty of the Commercial Interior Design Studio class. "I was unsure of the student's results given the size of the project but the outcome was amazing! The individual approaches and conceptual ideas were current with today's health care spaces."
The complexity of the project required a significant amount of preparation and research. Students like Kirsteen James began by researching biophilic, or nature-based, design, evidence-based design, health care design and space planning techniques.
"I designed a space based on the wisteria plant. I wanted to create an area that would provide hope to the patients without being cold and clinical," James said. She decided to go into the interior design field after spending long hours at clinics and rehabilitation centers. In 2011, her husband underwent several brain surgeries to remove a tumor.
"I loved that throughout the process, officials from MD Anderson geared us in the right direction but still gave us freedom to put in our own creativity," she added.
The students attended the Healthcare Design Expo in November 2016 where they experienced the world of professional health care design. Additionally, the students were exposed to the McGovern Centennial Gardens in Hermann Park as a way to explore nature and learn about the relationships between natural forms and health care design.
The project was a partnership with Carey Miller, Senior Facilities Planner/Designer from University of Texas MD Anderson Facilities Planning, Design and Construction Department. Miller attended lectures and peer critiques at HCC to share her opinions and engage students in practical approaches.
Whit Robinson, Executive Director of U.T. MD Anderson Cancer Center Facilities Design and Construction Department, also assessed the work of the students.
"I was completely amazed at the quality and thoroughness of the design proposals, as well as the professionalism and notable presentations of the students as they displayed their work," Robinson said.
Additionally, Christina Maroulis, Director U.T. MD Anderson Cancer Center Facilities Planning Design and Construction Department helped evaluate the students' presentations. The project presentation boards will be installed at the MD Anderson Nellie B. Connally Breast Center for public viewing.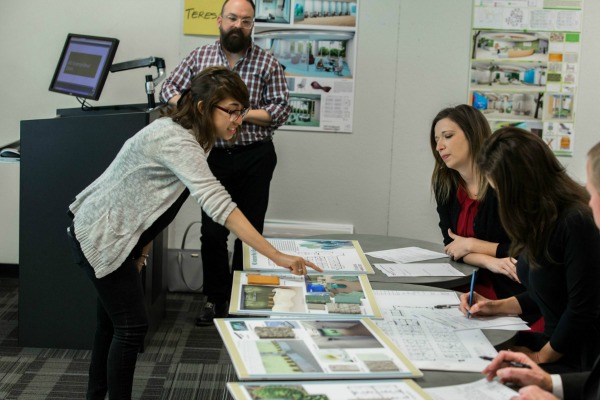 « Previous Article

| Next Article »
---