HCC announces Dr. Cesar Maldonado as Chancellor
May 13, 2014
The Board of Trustees unanimously voted to name Cesar Maldonado, Ph.D., P.E., PMP, as the next Chancellor of Houston Community College Tuesday, May 13. The institution conducted a nationwide search for the next leader of the institution and selected Dr. Maldonado, who successfully transitioned his private industry management expertise into public higher education administration. Dr. Maldonado is an accomplished engineer, civic and business leader, and higher education administrator. Prior to HCC, he served as President of Texas State Technical College in Harlingen, where he was responsible for many important accomplishments and advances for the college and its students since 2008.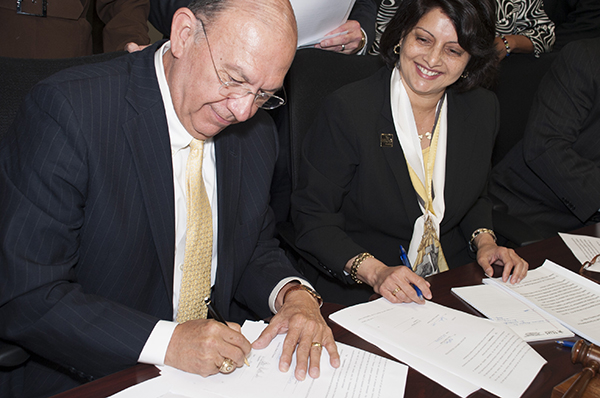 Photo album: View more photos of HCC Chancellor‌‌
Trustee Neeta Sane, HCC Board Chair stated, "The Board of Trustees has worked judiciously and diligently in taking one of the most important decisions for HCC's future. We are proud to select Dr. Maldonado as HCC's next Chancellor and we look forward to his leadership as we navigate and address many important opportunities that will help to define the HCC of the future. He is an accomplished academician, but one with three decades in business. His deep understanding of academia is framed in the context of community and industry. He is prepared for the complex issues we face and will work diligently to build teams and innovative solutions to move the College forward. We are excited with the leadership that he will bring to our College."
Some of the early issues Dr. Maldonado will face include identifying new funding sources and innovative partnerships, as well as to determine the best, most appropriate allocation of the funds generated from the bond passage so that we can build the most efficient and effective college of tomorrow.
Dr. Maldonado brings a strong awareness of college and workforce readiness and is active in working with the state legislature on education initiatives regarding school finance and education in science, technology, engineering and math.
"What an honor and privilege it is to be named Chancellor of one of the leading community colleges in the country," states Dr. Cesar Maldonado. "We have some real opportunities ahead of us to create what HCC can and will be for our students our community and our region. I will work diligently to understand the issues and the culture of HCC while identifying solutions to propel our college to a new standing. This is a new day at HCC – and one that centers around the important work in the classrooms and in the broader community."
Dr. Maldonado's business experience includes strategic planning, project management, infrastructure design, industrial systems and software design. Dr. Maldonado holds Bachelor and Masters of Science degrees in Chemical Engineering from Texas A&M University, a Doctorate in Systems and Engineering Management from Texas Tech University, and is an alumnus of the UC Berkeley Haas School of Business. Cesar and his wife of 38 years, Liz, enjoy their children, Kristin, Marcus, and Laura and Jason Rocha, and grandchildren, Julianne and William.
On a professional level, Dr. Maldonado has worked with the state legislature on education initiatives regarding school finance and science, technical, engineering and math education. In addition to his demonstrated business acumen, he led legislative efforts to create high school/college dual enrollment opportunities in Texas, and has served as a board member (twice as president) of the Harlingen Consolidated Independent School District (TX) since 2003. He served as the interim Chairman of the Border Governors Conference on Science and Technology, where he worked to foster bi-national research and technology exchange with scientists across the U.S. and Mexico border. He was also appointed by the governor to serve as a Regent of the Texas State Technical College System.
More details: www.hccs.edu/chancellor
---
« Previous Article

| Next Article »