District VII Newsletter: Kudos and Congrats
Nov 22, 2013
STEM students: Gardening for the Cure
Using plants to treat human ailments has been going on for centuries. Now, tapping back into the practice, HCC Southwest and the University of St. Thomas have taken the idea a step further. Winning the esteemed honor of second place in a poster presentation for a Science, Technology, Engineering and Mathematics (STEM) competition in early October, their partnership showcased a garden-variety plant's effect on the treatment of cancer.
The result of an eight-month research project, their "Isolation Structure Elucidation and Evaluation of Antitumor Activity of Vinca Rosea Alkaloids" presentation revealed the plant's effect on the treatment of cancer. The vinca, also called a periwinkle, is a common plant used for ground cover and is popular in Houston's climate. Their project examined the separation of antineoplastic agents from the periwinkle plants' leaves and roots that are used in the treatment of breast and colon cancers.
The research project was funded by a grant from the U.S. Department of Education for students who are interested in pursuing degrees in STEM. A $6,000 stipend was given to each student involved in the research.
Two HCC students who worked on this research project, Felicia Berechet and Shiva Fahandezh, were also selected to attend and present the study at the STEM Tech Conference 2013 in Atlanta.
The STEM Conference is consistent with recent recommendations from President Barack Obama's Council of Advisors on Science and Technology (PCAST).
NASA visits Stafford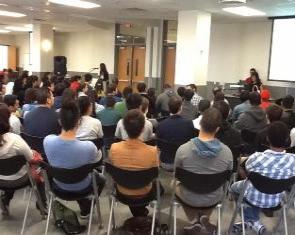 Who cannot forget Neil Armstrong's infamous words on the moon - "that's one small step for man, one giant leap for mankind?" Well, over 400 students made one small step towards a career in aeronautics when they attended an informational session about National Aeronautics and Space Administration (NASA) at the Stafford campus October 18.
‌HCC Southwest Physical Sciences professor Dr. Christina del Cerro invited NASA representatives to share how students can apply for the Community College Aerospace Scholars (CAS) Program.
CAS is an interactive, online learning opportunity featuring a three-day experience at NASA. Selected students are encouraged to study mathematics, science, engineering and computer science by interacting with engineers at different NASA centers and participating in interactive web-based activities. Students from across the nation are chosen to participate through a competitive process. Selected students are U.S. citizens who are currently pursuing a degree at a community college.
HCC Northwest breaks ground for new Alief Career Center
‌Houston Community College celebrated Northwest College's new Alief Career Center, 13803 Bissonnet, with a groundbreaking ceremony in October. The 17,220-square-foot workforce building will be a state-of-the-art learning facility where students can train to qualify for certification in areas of heating, ventilation, air conditioning, electrical and plumbing.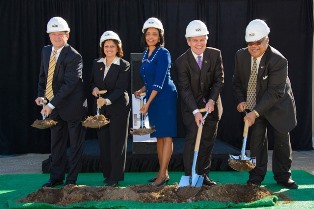 In addition to offering HVAC, electrical and plumbing certificates at the Alief Career Center, HCC developed a certified nursing assistant certificate last spring at the existing Bissonnet campus that created pathways for Alief ISD high school students to become CNAs, and offered work opportunities at the West Houston Medical Center with advancement prospects in nursing or medicine before graduation. HCC Northwest is committed to developing programs that will put people living in Alief-area neighborhoods to work in fields that Houston needs most.
HCC administrators and members of the Board of Trustees offered remarks about the facility and its importance to the community.
Dr. Hodges talked about the great partnership between HCC and the Alief Independent School District. "This is just the beginning," Dr. Hodges said. "Your support for skills development for Alief students is so important; it's about creating access and opportunity for them and their families. With Alief ISD and HCC working together, we are going to get students into the workforce by the time they graduate high school."
Mr. H.D. Chambers, Alief ISD Superintendent, added, "Workforce development is in the best interest of the community, the state and the nation. We, at Alief ISD, are committed to finding opportunities for every student, to helping them find develop meaningful skills to earn a meaningful wage for themselves and their families. And no wages are as meaningful as those available in these construction trades right now."
According to the Bureau of Labor Statistics, employment outlooks from 2010 to 2020 for HVAC, electrical and plumbing are increasing faster than the average for most occupations due to construction demand, retirement of more experienced workers and stricter laws with environmental concern.
Texans Scholarships for Service
Houston Community College has partnered with the Houston Texans to offer eligible military veteran students scholarships to HCC. The "Scholarships for Service" program will use funds received from the Houston Texans to aid HCC in providing services for our veterans as they transition from the military into academia. Up to fifty scholarships will be awarded this November. HCC's veteran students will have the opportunity to receive up to $1,000 in scholarships.

The students will also be part of the Veterans Retraining Assistance Program (VRAP), which offers up to 12 months of assistance to veterans who are currently unemployed and provides the necessary training and education for high demand occupations. Military veteran students can also receive VRAP Educational Benefits throughout the fall and spring semester.

Eligible veterans must maintain a GPA of 2.0 or higher and complete an online application, short survey and two-page essay that will be reviewed by a panel of HCC faculty and staff. High-scoring applicants are awarded scholarship funds by the HCC Foundation to their HCC account that is first applied to tuition and fees. Remaining funds can be used for course books, and any unused funding reverts back to the HCC Foundation to be awarded to the next qualified applicant until all funding is allocated.

HCC is the Official Education Partner of the Houston Texans. The funds for the Scholarships for Service program provided by the Houston Texans are well deserved by veterans and reservists for the contribution they make as citizens and students. HCC Veterans Affairs is committed to providing useful tools and resources to help veterans achieve academic success. Generous contributions are what keep HCC military veterans students on their feet and moving forward in their career.

To learn more about HCC Veterans Affairs, please go to www.hccs.edu/veterans.




« Previous Article

| Next Article »
---