District IV Faculty Highlight: Dr. Carla Tyson-Howard
Feb 5, 2014
"When the student is ready, the teacher will appear." Houston Community College's Dr. Carla Tyson-Howard's approach to instruction embodies this philosophy. Dr. Tyson-Howard is the Program Director of Health Information Technology at HCC Coleman College for Health Sciences, the field of study that she has also taught at HCC for 25 years.‌
‌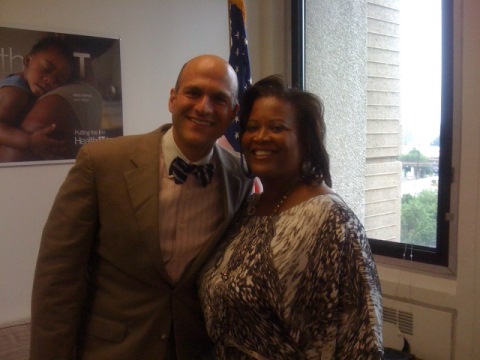 Dr. Carla Tyson-Howard with Dr. Farzad Mostashari, MD, National Coordinator
for Health Information Technology for the White House.
The daughter of a U.S. Air Force member and a nurse, Dr. Tyson-Howard has lived in cities around the world, from San Antonio to Tokyo, Japan. Wanting to follow in her mother's footsteps, Dr. Tyson-Howard started college with the intention of becoming a nurse, but soon discovered Health Information Management was a far better fit. She earned her Bachelor of Science in Medical Record Administration from Incarnate Word University in 1982 and her master's in Health Care Administration in 1990 from Texas Woman's University. It was around this time that one of her mentors, then program director of Health Information Technology at HCC, asked her to teach a Healthcare Statistics class. She has been teaching for HCC ever since. Dr. Tyson-Howard earned her doctorate in Higher Education from Texas Southern University in 1999.
The Health Information Technology field is paramount to good patient care as doctors, hospitals and health services move their patients' medical records into an electronic format, as mandated by the Health Information Technology for Economic and Clinical Health Act. As a consequence, the demand for individuals trained in health information or health informatics is increasing.
Dr. Tyson-Howard believes Health Information Technicians indirectly affect the care patients receive, allowing for better continuity of patient care and interchange of information among providers. Students training in this field should have a background in sciences and computers, and after earning their associate degree from HCC, students can go directly into the job market or move on to get their bachelor's, master's and doctorate degrees in health information or health informatics.
As Program Director of Health Information Technology at Coleman College, Dr. Tyson-Howard wants the program to grow, offering more degrees in the field. In addition to the Associate of Applied Science in Health Information Technology, she envisions an AAS in Health IT, which would have a greater IT focus within the healthcare arena.
Dr. Tyson-Howard is currently revising a new edition of a book she co-authored entitled "The Comprehensive Review Guide for Health Information: RHIA & RHIT Exam Prep." As a mentor to her students, she reminds them that they need to focus on their goals and complete their education. She encourages those who have graduated from HCC Health Information Technology program to teach as adjunct professors, and she even hopes that one of her students will someday take over the helm of the Health Information Technology Department at Coleman College.
---
« Previous Article

| Next Article »