An HCC sign-language student is the focus of a series of reports on Fox 26 news in Houston.
HCC Central sign-language student focus of reports on Fox 26
When you first meet Shea Donnell, you'll be blinded by her bright smile and effervescent personality. The HCC Central student is one of the most engaging, articulate and charming people you'll ever meet.
Then, you'll hear her story... the one about how she contracted cancer - osteosarcoma, a childhood cancer - at age 25.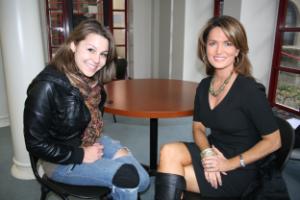 The one about when her right leg didn't heal properly, she opted to have it amputated because she was "tired of dragging around a dead leg."
The one that mentions that after her own life-altering health challenges, she decided "to get out there and help (people) as much as I can."
And the part that talks about how Donnell's prosthetic leg has been designed with a leopard-skin print, because she loves the style and "wanted to make it beautiful."
"Beauty is who you are, not what you are," says Donnell matter-of-factly about her animal-print-inspired leg. "I wanted to show the femininity in it."
Now, Donnell, the 28-year-old second-year student in HCC Central's American Sign Language program, will be featured on Fox 26-Houston's news through a series of reports by Melissa Wilson, the station's 14-year veteran morning anchor.
The stories will focus on the Sugar Land student's journey from illness to wellness, and let her larger-than-life personality shine through.
"She's amazing," Wilson says. "Everyone I know just fell in love with her."
The two met through Howard Dorsey, Fox 26's assistant news director, who saw Donnell in a Katy-area mall. The news executive's young daughter was so intrigued and delighted by Donnell's leopard-skinned prosthetic leg that she asked her father if she could meet her.
The father encouraged his young daughter to do just that. Donnell and the little girl have been friends ever since.
Ironically, Fox 26's Wilson has more than a professional interest in Donnell's uplifting story.
Wilson's youngest son - 6-year-old Caleb - is undergoing chemotherapy for acute lymphoblastic leukemia at Texas Children's Hospital. The kindergartner has both his good and rough days, which Wilson writes lovingly about in a blog about him for family, friends and supporters at calebscourage.blogspot.com.
In the meantime, Wilson is putting together reports about Donnell for future broadcasts. No air dates have set yet.
"They're came out and got video of me in my American Sign Language class (with professor Daniel Warthling), and will get me working out in my apartment gym, volunteering and getting fitted for a new leg,' Donnell says. "It's all pretty exciting. I'm flattered."