Spotlighting Solutions for Growth
The Goldman Sachs 10,000 Small Businesses Alumni will be hosting the 2016 Small Business Expo to provide an opportunity for small business owners to learn from and engage with technology providers that support business growth.

Not only will some of our alumni be exhibiting, but we will also have representatives from Infusionsoft, Microsoft and Datto participating on a panel as well as smaller breakout sessions.

Our goal is that you leave this expo with a stronger confidence in incorporating technology solutions into your business operations.
Tech Expo Agenda:
When: Wednesday, April 20, 2016
Where: HCC West Loop Center - 5601 West Loop South, Houston, TX 77081
7:30 – 8:30 am Exhibit Set Up
8:30 am Goldman Sachs 10,000 Small Businesses Alumni Registration
9:00 am Private GS10KSB Alumni Technology Panel Event
10:15 am – 2:15 pm Technology Expo Open to the public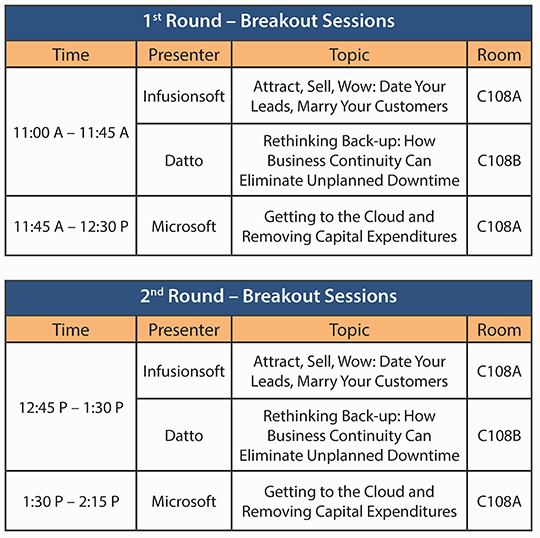 ‌

Registration is required in order to attend.
Panelists:
Michael DePalma, Channel Development Manager, Datto
Mark Rodriquez, Community Development Specialist, Microsoft
Ramon Ray, Small Business Success Evangelist, Infusionsoft
Goldman Sachs 10,000 Small Businesses Alumni Exhibitors:
Adprint International, Inc.
Teri Ray, President
www.adprint.com
Industry: Marketing/Advertising

Audio Visual Technologies Group
Ashley Brown, President
www.avtg.com
Industry: Audio/Visual

Best Care EMS
Marina Vaamonde (Kislyuk)
www.bestcareems.com
Industry: Health & Wellness

BioScience Writers, LLC
Susan Marriott, President
Industry: Technical Writing

C-Ray Media, Inc.
Connie Gray, President
www.c-raymedia.com
Industry: Marketing/Advertising

Compu-Data International, LLC
Juan Celaya, CEO
www.cdlac.com
Industry: Information Technology

Corporate Move Consulting, Inc.
Renee McNiel, President
www.cmcimove.com
Industry: Logistics

Customized Real Estate Services, Inc.
Connie Rankin, CEO/Broker
Industry: Real Estate

DLZP Group, LLC
Lisa Brunet, President
www.dlzpgroup.com
Industry: Information Technology

doc2e-file, Inc.
Sherry McManus, President
www.doc2e-file.com
Industry: Information Technology

Electronic Assembly Services, Inc.
Evelyn J. Fletcher, President
www.electronicassemblyserviceinc.com
Industry: Manufacturing

ETSZONE
Kim Stautner, Managing Partner
www.estzone.com
Industry: Information Technology

Exhibit Network
Kathleen Maartens, CEO
www.exhibithouston.com
Industry: Printing/Manufacturing

Eyecube Solutions, LLC
Raju PS, President
www.eyecubesolutions.com
Industry: Information Technology

Fokal Fusion, LLC
Rainee Busby, CEO
www.fokalfusion.com
Industry: Operations

Genesis BCS – Business Communication Solutions
Debra Schindler Boultinghouse, President & Founder
www.genesisbcs.com
Industry: Telecommunications

Inner-Net, Inc.
Merlyn Osbourne, President
www.innernetinc.com
Industry: Information Technology

Jewish Herald-Voice
Vicki Samuels, President & CEO
www.jhvonline.com
Industry: Printing/Publishing

LCD Concepts, Inc.
Nancy Olson, President
www.lcdconcepts.com
Industry: Audio/Visual

Pennino and Partners
Laura Pennino, CEO
www.penninoandpartners.com
Industry: Public Relations

Pinot's Palette Sugar Land
Diana Vasquez, Owner
http://www.pinotspalette.com/sugarland
Industry: Art Entertainment

Premier Wireless
Lea Bogle, President
www.premierwirelesstx.com
Industry: Telecommunications

RAC Conference Center
Gauri Seth, President
www.rachouston.com
Industry: Hospitality

RPC Global, Inc.
Abe Gonzalez, Founder
www.rpc.global
Industry: Information Technology

SabinoCompTech
Nancy Sabino, CEO
www.sabinocomptech.com
Industry: Information Technology

Sears Garage Doors
Masroor Fatany, Managing Director
www.searsgaragedoors.com
Industry: Home Services

Shea Writing & Training Solutions
Evalyn Shea, President
www.sheaws.com
Industry: Technical Writing and Operations

Snapper Jack's Catering
Angelica Noyola, President
www.snapperjackscatering.com
Industry: Catering

Tech Therapy
Robert Lindsey, Executive Director
www.techtherapy.com
Industry: Information Technology

TechOne Centre
CV Rao, President
www.techonecentre.com
Industry: Information Technology

Texas Premier Safeguard
Michael Ratchford, President
www.txpsg.com
Industry: Printing

Texas Security Shredding
Pat Vice, President
www.texassecurityshredding.com
Industry: Security

USA Mobile Drug Testing of Houston
Tona Trondsen, President
www.mobiledrugtestinghouston.com
Industry: Health and Wellness
Houston Community College Exhibitors: