Top News
HCC Honors College student participates in prestigious MD Anderson summer program
Oct 3, 2017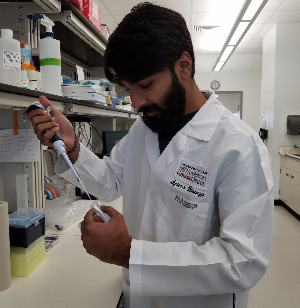 Beakers, test tubes, and lab coats. Zeeshan Ali, a Houston Community College (HCC) Honors College student at the Stafford campus, spent part of his summer surrounded by these items, thanks to a once-in-a-lifetime opportunity with the University of Texas MD Anderson Cancer Center.
The world-renown research facility selects one college student each summer to participate in a four-week program in the Department of Systems Biology. This year, Ali was the chosen one, beating out hundreds of other applicants.
"To be honest, I felt very honored to be learning inside this lab because it is one of a kind," Ali says.
Ali owes his appointment largely to an HCC professor who highly recommended him. He had the opportunity to shadow MD Anderson's top researchers, learning how to grow cells for cancer research and receiving hands-on experience a in state-of-the-art lab.
"We look for students who match MD Anderson's elite status, explains Dr. Zhiyong Ding, Ali's mentor at the research center. "Only the best get selected. It is an extremely difficult program to get in."
"I came to America from Pakistan around two years ago with a complete education in business," Ali says. "I worked in the world of accounting, but it wasn't intriguing to me at all. Once in Houston, I got selected to be a part of the HCC Honors College right away and it helped me discover I could change my major and find my passion to explore different avenues of research."
Ali now has three areas of interest in research: the heart, the brain and cancer. So far, cancer research is his favorite and it's a direct result of working with the team at MD Anderson.
"We hope to inspire each student who works here and to ignite their interest, especially in cancer research," Dr. Ding says. "Ali is really good, he learns quickly and he is always asking a lot of questions. I'm really impressed."
HCC Honors College is open to students with a 3.5 GPA or better and is designed to challenge them to reach their full potential before transferring to a four-year university. For more information on how to enroll into the Honors College, visit: hccs.edu/honorscollege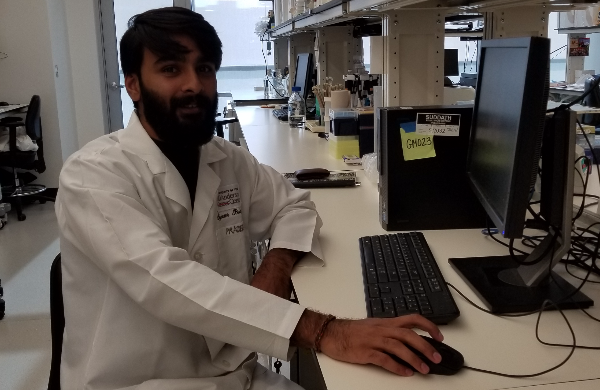 « Previous Article | Next Article »
---